Lock Keeper's Inn business 'halved' by bridge closure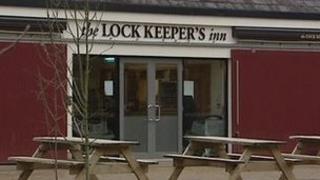 A south Belfast cafe owner has said his business has halved in recent days, due to the closure of a nearby bridge amid safety concerns.
The Clement Wilson Bridge at Newforge, close to Lock Keeper's Inn at Shaw's Bridge, will have to be rebuilt after its structural integrity was found to be compromised due to corrosion.
Laurence Huddleson said the closure was affecting access to the cafe.
Belfast City Council has said it has no option but to close the bridge.
In a statement, it said it had contacted Mr Huddleson on Monday night to inform him of the bridge's closure.
"The council has tried to keep the bridge open as long as possible. However at this time we have no option but to close it," it said.
"A planning application has been lodged and we will seek to minimise the inconvenience to the public as well as to the Lock Keeper's Cottage."
Mr Huddleson, who took over the cafe almost a year ago, said much of his trade in the winter came from the office workers at Newforge.
He said they can no longer get over the bridge to his cafe and would not have time to walk the longer way round.
Mr Huddleson said on one day last summer, 84,000 people walked past the cafe and he does not believe the bridge was ever meant for such a high volume of traffic.
Belfast City Council said it had already planned to replace the bridge, which has been in existence for more than 50 years, as part of the city's £150m investment programme.
It had applied for planning permission and has said it will be writing to local residents to inform them of its proposals.
Temporary signs will be in place to provide information on alternative access points.
Walkers and cyclists will no longer be able to use the bridge to travel between Belfast and Lisburn.