Channing Day: Condolence books for soldier given to family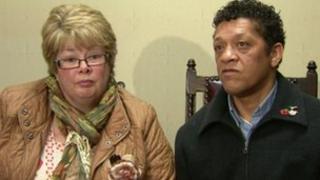 Five books of condolence have been presented to the family of Corporal Channing Day in Newtownards.
The 25-year-old from Comber was killed in Afghanistan earlier this year while working for the Army Medical Corps.
Her parents Rosemary and Leslie Day said she was a very vibrant and bubbly person who lived life to the full.
"I don't think she will ever be forgotten because of her friends, she was a great part of their lives," Mrs Day said.
"She loved to party - when they went out to clubs she was the last one off the dance floor, she was just full of life."
Mr Day, a former soldier, said that she was his "number one" and that he had been proud of her achievements.
"It was a job that she wanted to do and you couldn't stop her from doing it. And we wouldn't blame her either," he said.
"She wanted to go to Afghanistan. All she wanted to do was be a soldier and a medic."
When she returned home, Cpl Day did her best to protect her family from the realities of war and military life.
Her mother said: "She didn't really talk a lot about her work. There were a couple of incidents I have since found out about from previous tours. But she really didn't disclose a lot, in-depth about what was happening in Afghanistan."