Sinn Fein and Alliance politicians sent bullets in the post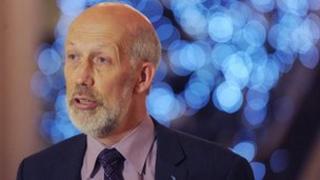 Letters containing bullets have been sent to five Northern Ireland politicians.
Sinn Fein said letters addressed to Gerry Kelly and Alex Maskey had been sent to Stormont.
An Alliance Party press officer said he had been told that bullets had also been sent to party leader David Ford, Naomi Long and Gerardine Mulvenna.
It is understood five separate envelopes containing bullets were sent to the politicians.
An assembly spokesperson said: "A package was delivered to Parliament Buildings on Wednesday and intercepted by security staff. In line with standard procedures, the package has been passed to the PSNI."
Police said they were currently dealing with a number of suspicious packages which had been located in the post room of Stormont.
Mr Ford said the bullets arrived in envelopes addressed to the individual MLAs and did not contain written threats.
He praised the security team for doing their job and cautioned political leaders on the language they use.
"Every individual in political life needs to examine what they are doing, the words that they are using and whether the things that they are saying could be contributing to creating this difficult atmosphere," he said.
"People are now taking action way beyond anything that may have been expected to arise from a democratic decision of a local council."
Mr Kelly, who said he had received a death threat through Sinn Fein's North Belfast constituency office on the Antrim Road at the beginning of December, said the live bullets sent to MLAs was a step up in the attempt to intimidate elected representatives.
"This will not deflect Sinn Fein from our work of seeking parity of esteem when it comes to reflecting people's Irishness and Britishness," he said.
"There were no violent protests in Lisburn and elsewhere when the decision to go for designated days had the support of unionists.
"Obviously protesters have been wound up prior to the decision in Belfast and those that have kept up the tension need to reflect on what they have created."