Tragedy prompts man to put childhood toys on show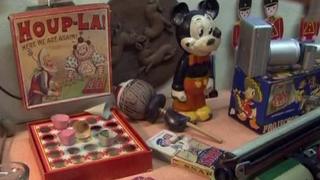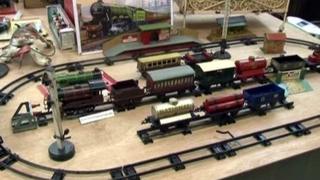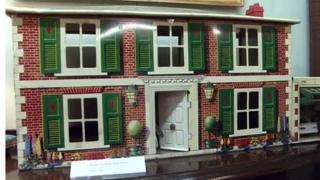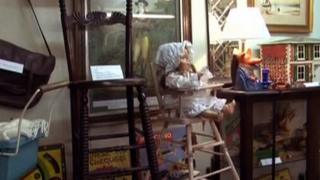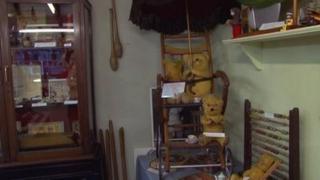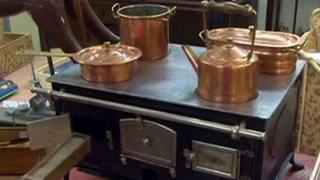 Over the last 20 years, Billy Dunbar has gathered a collection of toys spanning almost 200 years.
Now, personal tragedy has prompted him to put his collection on display to raise money for charity.
The workshop behind Billy's house on the outskirts of Omagh appears unremarkable from the outside.
But within its walls are toys dating as far back as 1860.
Many show evidence of being well-loved and all have found a good home with a man who is passionate about toys.
Display
"I'm getting older, there's probably a bit of nostalgia," said Billy.
"There's a longing for childhood again, I suppose."
Favourite toys from childhood throughout the ages are on display and the changes over the years are obvious.
"I have a little stove, made in Germany in the 1890s" he said.
"The children would have put methylated spirits in the tray and would have lit it, and then they could boil all the utensils on top.
"I don't think this would be permitted nowadays."
Billy has always been a collector, but toys became his passion about 20 years ago.
He usually goes to auctions and fairs to find items, but he has also managed to include some traces of his own childhood.
"This was my schoolbag," he said, pointing at a beige canvas bag pinned to the wall.
"Just after the war, they sold off this type of gas mask container and the parents bought them for schoolbags.
"I later used it as a fishing bag. I had to scrub the rusty hinges before I set it out."
His most treasured item belonged to him as a boy as well.
"It's something my father, a soldier, brought home after being at Dunkirk - a moneybox," he said.
"It's a wee sentry box with a lead soldier guarding outside. I become more attached to it as time goes on."
Ice-cream
The collection has not been shown before, but losing his brother to cancer last year prompted Billy to curate it for public display to raise money for Cancer Research.
With everything from train sets to doll's houses, puppets and planes to teddy bears on show, there is plenty on view for visitors.
"They're pretty impressed with it - they weren't prepared for what was inside the door," he said.
"Some of them recognise items from their own childhood."
As well as things like penny toys, a favourite way to waste the remains of a week's pocket money in the mid-20th century, visitors might recognise the "penny lick".
"The street vendors of ice-cream would give the children this for a penny, with ice-cream in the top" said Billy.
"It's very, very shallow. They call it a hocus-pocus glass too, meaning fraud or deception.
"The children got the impression that they had the full glass when they only got the little bit at the top.
"But I believe, in between customers, they dipped the glass in a pail of water to clean it and this led to infection around the mouth. So there were side-effects for your ice-cream."
The collection is not a hands-off one. Visitors can try to knock down Edwardian skittles, see the miniature steam trains in action and try to score in paper-cone hoopla.
"But in case anyone gets carried away, there is a 'correction chair' for naughty boys and girls. The tall, high-backed seat was used as a punishment for children in Victorian times," Billy said.
"They were made to sit up on this as a punishment, as opposed to standing in the corner nowadays.
"As you can see, the top rung is well-worn, so it must have had a lot of use."
But most of the collection is purely about fun. In one corner, the teddy bears enjoy a picnic under an umbrella, while the tinplate doll's house is furnished and open for visitors.
Replica war planes hang from the ceiling and every spot on the walls and shelves hold childhood memories for every visitor.
The collection is open until mid-January.