BBC NI boss Peter Johnston to stay in post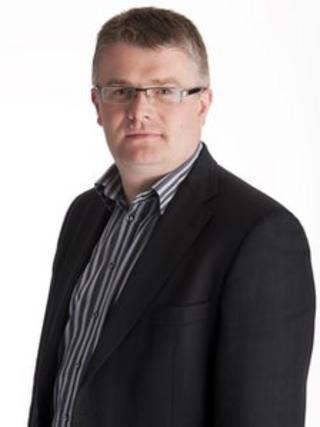 The Director of BBC Northern Ireland, Peter Johnston, is to continue in his role after a critical report into a Newsnight segment.
An item on the programme led to Lord McAlpine being wrongly implicated in child abuse allegations.
While Mr Johnston was the most senior figure in the "chain of command", the BBC Executive said the decision to broadcast was made in London.
Adrian Van Klaveren, the controller of BBC 5 Live, was responsible for this.
Mr Van Klaveren is now moving on to another senior role in the BBC.
Mr Johnston said he had contributed "honestly and fully" to a subsequent review of the matter.
"Anyone involved in any of these things in any way has to feel some level of responsibility for the whole thing and think about that," he said.
"So I'm relieved I suppose that things have been clarified.
"It's been a difficult set of months, not just for me but for all the other individuals involved in this, and I'm very conscious of that and of course everyone affected by the story in the first place and the whole BBC."
Apology
In a statement the BBC Executive said: "The executive takes the view, based on its enquiries, that responsibility for editorial sign-off of the report as a whole lay with Adrian Van Klaveren.
"In coming to this view, the executive have taken account of the fact that Adrian Van Klaveren was only acting in that role temporarily and also there was a lack of clarity within BBC News as to whether this report should be regarded as Savile related.
"There was a single additional referral to Peter Johnston, as the editor-in-chief on Savile related issues, about which recollections differ; but the executive takes the view that the actual go-ahead for transmission was a decision taken in London within Newsnight and BBC News. "
The BBC has since apologised and paid compensation to Lord McAlpine.
A separate inquiry into Newsnight's shelving of a report into sexual abuse by Jimmy Savile criticised BBC management, but found no evidence of a cover-up.
It was not done to protect tribute shows to the late DJ and presenter, as some had claimed, said the report, which was carried out by a former head of Sky News, Nick Pollard.