Nesbitt: Unionist forum no guarantee of full flag return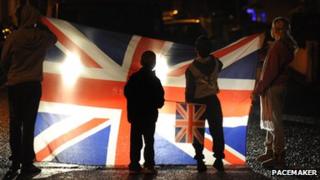 The UUP leader Mike Nesbitt has said there is no guarantee a unionist forum will result in the union flag flying every day from Belfast City Hall.
The creation of the forum was announced on Tuesday by Mr Nesbitt and the DUP leader Peter Robinson.
It follows protests over the decision by Belfast council to limit the number of days the flag flies at city hall.
Mr Nesbitt said there needed to be a "respectful and regional agreement" on the issue.
He said that he wants the forum to meet as soon as possible and that he hoped it would stop the street protests.
"It's very hard to know who is behind the street protests but there is no doubt from listening to the police and others that there are those with political ambitions who seem to be using it for their own purposes," he said.
When asked on the Good Morning Ulster programme if the forum could guarantee the union flag being flown over the city hall for 365 days a year again he said "absolutely not".
He said the protests had shown there was more than one issue that needed to be addressed.
"There's more than putting the flag back on top of the city hall, the flag was an issue, but it also revealed underlying issues about identity, the economy and politics," he said.
"Those are the broad reach of issues we need to discuss and find out where the points of difference are and where consensus can be found.
"Then unionism will be in a stronger place to work with everybody else to deliver a proper shared future where we will have also dealt with the past."
There were more protests on Tuesday night, however, the turnout was small and without incident. Over the last two weeks there have been hundreds of protests and some have become violent.
Businesses in Belfast have reported a drop in trade in the normally busy pre-Christmas period.
On Tuesday night the DUP and the Ulster Unionist leaders invited other unionist politicians and groups to join the forum to address the flags issue and that the new grouping would also strengthen British cultural identity in Northern Ireland.
The DUP North Belfast MP Nigel Dodds denied there was a crisis in unionism, but said the protests showed there was "anger and frustration" which needed to be channelled into "political means".
He said that people who share core unionist values "through exclusively peaceful and democratic means" would be invited to attend to attend the forum "right across the board".
He said some parties close to the thinking of loyalist paramilitaries, like the Progressive Unionist Party, would be included.
"There is investment going into loyalist areas, but there are issues to do with the cultural war that is now being waged by some republicans in relation to British symbolism and identity in Northern Ireland," he said.
Billy Hutchinson of the Progressive Unionist Party said while the forum was a positive step, it remained to be seen what it could achieve.
"The difficulty for me is how to get everybody round the table, it's impossible to do that," he said.
"So is it a question of them taking evidence from people, or how will they do it.
"We're all a bit in the dark until we have the meeting, but obviously they've called a meeting and I think that's a positive step, but it'll depend on what comes out of it."
Secretary of State Theresa Villiers said she hoped that the protests would end.
"It is vital that these protests come off the streets and are channelled into a political dialogue," she said.
"A political dialogue within unionism could be constructive, but it's important that it's part of a more inclusive dialogue across the political parties.
"That's why I met with the leaders of the political parties and was urging them to get together to talk about what they can do to resolve this issue and drive forward with building a genuinely shared future, because its sectarian divisions that make these kinds of issues so difficult to resolve."
There has been mixed reaction to the proposal.
Traditional Unionist Voice leader Jim Allister said such a forum was unlikely to deliver a "lasting advance" for unionism.
The leader of the Alliance Party, David Ford, said parties needed to work on a cross-community basis.
The leader of the SDLP, Dr Alasdair McDonnell, said he welcomed any conversation with the potential to end illegal and violent street protests.
"Talks within communities are welcome but they are no substitute for the need for reconciliation between communities," he said.
"Care must also be taken to ensure there is no repeat of past mistakes where vested interests are incentivised to behave in certain ways without changing behaviours and attitudes in any way."