Cannabis worth £175,000 recovered in Derrylin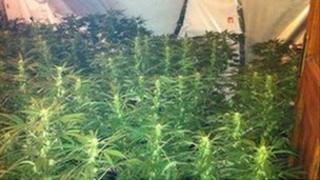 A man has been arrested after two factories, containing cannabis believed to be worth £175,000, were discovered in Derrylin, County Fermanagh.
The police found 170 fully grown cannabis plants in the two properties along with 100 smaller ones.
A third house in Enniskillen was also searched.
Insp Roy Robinson said the police operation followed up to four months of investigations.
"This was a proactive intelligence-led operation focussed on people we suspected were dealing drugs, including cannabis," he said.
"It is clear from the response officers received while carrying out these operations that people in these areas were very supportive of police action.
"This operation is a part of a process that will continue in order to tackle the trade in illegal drugs in this area."
The houses were being rented and the police have appealed to landlords to be vigilant and to report suspicious activity such as blinds and curtains being permanently closed.
The police in Fermanagh have discovered a number of cannabis factories in rural properties in the county this year.
In March, 700 plants worth about £280,000 were discovered near Coa, about five miles from Enniskillen.