Union flag protests pass off peacefully in Belfast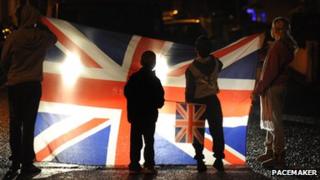 Loyalist flag protesters demonstrated again in parts of Belfast as well as Lisburn and Magherafelt on Tuesday.
However, the turnout was small and without incident. Over the last two weeks there have been hundreds of protests and some have become violent.
The protesters are angry at restrictions on flying the union flag on Belfast City Hall.
The leaders of the two largest unionist parties have announced a forum to address the issue.
A small number of protesters blocked the Castlereagh Road in east Belfast at 18:00 GMT for about 15 minutes.
In the north of the city a peaceful protest was held on the Crumlin Road.
The protesters are angry that the flag will not be flown every day, a change the council voted through just over two weeks ago.
Businesses in Belfast have reported a drop in trade in the normally busy pre-Christmas period.
The DUP and the Ulster Unionist leaders have invited other unionist politicians and groups to join a forum to address the flags issue.
Peter Robinson and Mike Nesbitt said the new grouping would also strengthen British cultural identity in Northern Ireland.
There has been mixed reaction to the proposal.
Traditional Unionist Voice leader Jim Allister said such a forum was unlikely to deliver a "lasting advance" for unionism.
The leader of the Alliance Party, David Ford, said parties needed to work on a cross-community basis.
The leader of the SDLP, Dr Alasdair McDonnell, said he welcomed any conversation with the potential to end illegal and violent street protests.
"Talks within communities are welcome but they are no substitute for the need for reconciliation between communities," he said.
"Care must also be taken to ensure there is no repeat of past mistakes where vested interests are incentivised to behave in certain ways without changing behaviours and attitudes in any way."