Forum receives guarded welcome from loyalists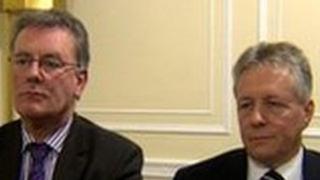 So Peter Robinson and Mike Nesbitt hope their new forum will provide an alternative to the loyalist street protests.
Although the two unionist leaders have already been engaged in a series of meetings with loyalists and representatives of the loyal orders, they haven't drawn up a definitive list of forum members.
Indeed they say who the participants should be will be up for discussion in its first meeting.
The forum will seek to build a consensus on addressing the flags issue, parading and "strengthening British cultural identity in Northern Ireland".
This isn't the first time unionists have talked of setting up institutions to tackle these areas - four years ago the DUP talked about leading a "fight back" against the erosion of Britishness.
I'm not aware if the DUP's proposed "Unionist Academy" and "British Cultural and Equality Unit" ever saw the light of day.
But if they did then they didn't head off the latest union flag crisis.
'Appalling'
The unionist forum will also discuss other social, economic and political matters, including deprivation and educational underachievement in the unionist community and the low level of unionist voter registration and turnout.
The most immediate and salient question isn't whether any of this is new (it's not), but whether it can make a difference.
The large number of children involved in the recent trouble (something Peter Robinson described as appalling) highlights the extent to which the protests have taken on a logic of their own.
The Progressive Unionist leader Billy Hutchinson says the forum isn't his idea, but he hopes it might create a connection between the politicians and the people on the streets.
The United Protestant Voice's Jonny Harvey gave the forum a guarded welcome, adding that "there is a big lack of trust in politicians" and the protestors still wanted to see some action before they stop.
Earlier on Tuesday, the Alliance leader David Ford indicated he was unimpressed by "one section of politicians talking amongst themselves".
Mr Ford put more store by a meeting of all the main Stormont leaders to chart a way forward - something he believes won't happen before Thursday.