Taxi driver in court over Ryan Doyle death in Perth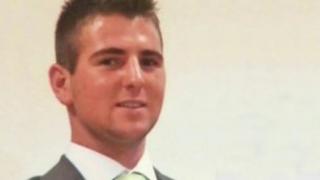 A taxi driver has appeared in court in Perth, Australia, over the death of County Down man Ryan Doyle.
Mr Doyle, 25, from Leitrim, just outside Castlewellan, died in what Western Australian Police described as a road crash in November.
Shamsul Haque Rasuly, 26, is alleged to have driven away as Mr Doyle was getting out of his taxi in Perth after they argued over the fare.
Mr Doyle was injured as he fell to the ground and later died in hospital.
ABC News reported that during his brief court appearance at Perth Magistrates Court on Tuesday, Mr Rasuly was not required to plead to charges of dangerous driving causing death, failing to render assistance and failing to report an accident.
He was released on bail and is due back in court next month.
His bail conditions prevent him from driving any taxi in Western Australia and from going within one kilometre of any airport.
The taxi driver had picked up Mr Doyle outside a casino in Perth.
Police allege the argument broke out when the taxi arrived at a home on Leake Street in the city's Belmont area.
It is alleged that as Mr Doyle exited the taxi, the driver accelerated, causing the County Down man - who had been working in Australia for a number of years - to fall to the ground.