Pink tutu assault case witness is killer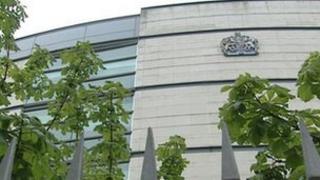 A man who claims to have witnessed an attack on a man dressed in a pink tutu has convictions for manslaughter, indecent behaviour and sexual assault, a court has heard.
Gareth William Larmour was giving evidence in the trial of Sean Smyth of Woodland Avenue, Belfast.
Mr Smyth denies kicking the man in the head on 16 September 2011.
Mr Larmour told a prosecution lawyer he had witnessed the alleged attack from his home at Wellesley Avenue in the city.
Giving evidence at Belfast Crown Court, Mr Larmour agreed with defence lawyer Mark Farrell that, in November 2007, he was jailed for four years at Bristol Crown Court for manslaughter.
Having served half of the sentence, he moved to Northern Ireland, and at Bangor Magistrates' Court, he was put on probation for indecent behaviour and sexual assault in September 2010.
Mr Larmour told prosecution lawyer Conor O'Kane that he was awakened by a commotion outside his flat.
He saw a man with a shaved head, allegedly being called "Sean" by two girls and two other "fellows" as they attempted to calm him down.
He said he watched the group on and off for about an hour when he saw a girl with a man dressed in a pink tutu pass them by.
Mr Larmour claimed that one of the group, a tall stocky man, called out "pansy boy" before lashing out with his fists.
After knocking him to the ground, the man then sat on the victim's chest before, "the fellow Sean ran forwards and said, 'watch this' and ran to the fellow on the ground and kicked him in the head".
He also told Mr O'Kane he had no reason to lie about what he allegedly saw, and that before the incident he had not known any of the names of those involved.
Questioned by Mr Farrell about the incident, Mr Larmour agreed that the only description he gave for the man he claimed to be 'Sean', was his "short shaved head".
He also agreed that despite having watched the group, he had "no idea what he was wearing" and that despite the earlier commotion did not ring police until after the assault.
However, he rejected a suggestion from Mr Farrell that the only reason why he had not picked 'Sean' out of a set of photographed suspects was because he "was not sure who that person was".
The trial continues.