Firework injuries 'lowest on record' in Northern Ireland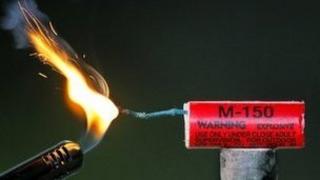 Fourteen people needed emergency hospital treatment for firework injuries over the Halloween period in Northern Ireland this year.
The figure is the lowest since local records began 16 years ago.
Injury statistics have been collected every year since 1996, when a ban on the sale of fireworks was lifted.
That year, more than 200 people were hurt by fireworks in Northern Ireland. Since then, the number of casualties had decreased significantly.
The 2012 figures were released by the Department of Health, Social Services and Public Safety.
Almost halved
It includes all reported firework injuries sustained in a month-long period beginning on 17 October, two weeks before Halloween, and ending two weeks after the festival on 14 November.
When compared with the previous year, the number of injuries almost halved, from 25 in 2011 to 14 this year.
The majority of those injured this year were boys under the age of 18.
The most common injury was to the hand and wrist.
The ban on the sale of fireworks in Northern Ireland was lifted as a result of the peace process in the mid-1990s.
Abuse
However, in 2002, new regulations were introduced that meant anyone intending to buy or use outdoor fireworks had to apply for a licence.
The then Northern Ireland Security Minister, Jane Kennedy, said she had been forced to change the law governing their use because of widespread abuse of fireworks to attack the police, the elderly and helpless animals.