Sectarian abuse in Carrickfergus council disruption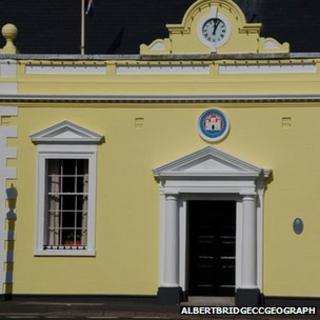 Sectarian abuse was shouted by loyalist protesters who disrupted a meeting of Carrickfergus Borough Council, an Alliance councillor has said.
There was trouble in the town on Monday during a protest over union flags.
Alliance Party councillor Noel Williams said five protesters burst into a council meeting yelling abuse.
"Everyone was outraged, people were very threatened they were draped in union flags, wearing hoodies and were covering their faces," he said.
He said the protesters yelled abuse at all the councillors and banged on the tables, but singled out the Alliance members for the worst of their anger.
Mr Williams, a former RAF wing commander, said that his party colleague Sean Neeson was the target of sectarian cat-calling.
"They abused the DUP but were particularly aggressive to one Alliance councillor who has done nothing but outstanding community work for Carrickfergus and East Antrim.
Mr Neeson, 66, a former leader of the Alliance Party became the first Catholic mayor of the largely loyalist town in 1993.
"He was subjected to outrageous sectarian abuse," Mr Williams said.
He said the protesters left of their own accord and the police turned up later. He said the meeting continued, but councillors had to be escorted to their cars by police.
"It is unacceptable that the town hall was not under police surveillance, especially as violence has broken out at previous protests," he said.
Mr Williams said that it had been a "full frontal attack on democracy".
He added that he would be asking the council's chief executive to review security at the town hall.
Elsewhere in the town shoppers had to be locked into a Tesco supermarket due to the trouble.
A spokesperson for the company said customer safety was their "primary concern".
"We shut our petrol station for a few hours on the advice of the police, and closed the shutters at the front of our store for around fifteen minutes last night, during which time our customers continued to shop," they said.