Leaders of Northern Ireland unionists launch flag forum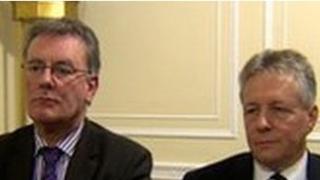 The DUP and the Ulster Unionist leaders are inviting other unionist politicians and groups to join a forum.
Peter Robinson and Mike Nesbitt said the new grouping would address the flags issue and strengthen British cultural identity in Northern Ireland.
They said they want to channel unionist efforts through political means.
The statement follows a series of street protests, some violent, over restrictions on the flying of the union flag at Belfast City Hall.
The proposal for the unionist forum was criticised by Alliance leader David Ford whose party has borne the brunt of the protestors' anger.
Alliance councillors who hold the balance of power on Belfast City Council voted in favour of flying the union flag over the city hall only on designated days.
Protestors are demanding that the flag be flown every day in the year.
Mr Ford said: "The only solution to deliver a shared future must come from a consensus from all groups and not from parties working in different tribal blocks.
"We will not achieve anything if the unionist parties put forward their demands on behalf of one section of the community and thus turning the debate into one in which issues are won or lost for different sections."
Many businesses across Northern Ireland, and particularly in Belfast, have reported a drastic reduction in trading in the pre-Christmas period.
The two unionist leaders said they hoped the new forum would provide an alternative to the recent protests.
More extensive
They want all participants in the forum to commit to exclusively peaceful and democratic means, non sectarianism and commitment to a shared future.
They said they wanted the forum to hold its first meeting at Parliament Buildings "as soon as possible".
In a joint press release, the DUP and UUP said the number of participants in the forum would be limited and working groups may be established to provide a more extensive reach across the wider unionist community.
The parties said all participants "would share the core values of support for the maintenance of the union between Northern Ireland and Great Britain," commitment to exclusively peaceful and democratic means, non-sectarianism, commitment to a shared future and commitment to the successful operation of devolution in Northern Ireland.
"The forum would not be a decision-making body, but would act as a body within which a consensus might be built and implementation of any actions left to individual organisations," the DUP and UUP said.
"It would seek to engage positively with representatives from all sections of the Northern Ireland community."
Possible items on the first agenda would include a strategy for addressing the flags issue, measures to increase voter registration and turnout in unionist areas, and proposals to address problems surrounding parading,
Other items would include proposals to tackle deprivation and educational underachievement in the unionist community.
Children arrested
Meanwhile police in Northern Ireland are taking a harder line with loyalist protestors following more than two weeks of street violence and disruption, a senior officer has said.
Eleven officers were injured and 15 people, including nine children, arrested during protests on Monday.
There have been protests against restrictions on flying the union flag on Belfast City Hall, which the council voted through two weeks ago.
There were about 80 protests on Monday.
An 11-year-old boy arrested in Lisburn, County Antrim, has been charged with riot.
Police Service of Northern Ireland Assistant Chief Constable Dave Jones appealed for an end to the violence.
"We're a week before Christmas - an outbreak of Christmas spirit might be quite good," he said.
There was trouble in parts of Belfast, Lisburn, Carrickfergus and Portadown on Monday night.
Police came under attack in Newtownards Road in east Belfast, where 200 loyalists congregated. A journalist with the Belfast Telegraph was also attacked while covering the protest.
A total of 40 police officers have been injured this month in disorder connected to flags protests.
The latest trouble comes after more than two weeks of demonstrations by loyalists over the decision by Belfast City Council to stop flying the union flag every day. It will now be flown on up to 20 designated days a year.
Political leaders at Stormont have made repeated calls for the street protests to stop.