Comber collector's accordions recovered in County Meath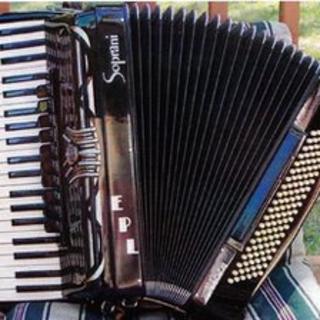 A County Down man, who had 30 rare accordions stolen earlier this year, has had some of them returned.
Twelve were found on some wasteland covered with a tarpaulin in Mornington, County Meath on Saturday.
The instruments worth several hundred thousand pounds were stolen from Ken Hopkins' Comber home in August.
A motor home and items of jewellery were also taken - they have not been recovered.
Mr Hopkins said he had received a call from Irish police on Saturday.
"They explained to me what they were and I said 'yes, they were mine'," he said.
"Some of them were damaged as they weren't in cases so they got knocked about a bit but it's good to have them back anyway, it's like an early Christmas present.
"I had them displayed on shelves in the house and they were taken off the shelves.
"I was surprised that the ones that turned up were still in Ireland."
He said most of the remaining accordions still missing were "very rare and expensive".
"I would like to get them back as well," he said.
"They wouldn't be the sort of thing collectors would see everyday.
If someone does come across any rare accordions, please contact the police on either side of the border."
'Upsetting'
The robbery and the loss of his instruments has had a lasting effect.
"It's been very upsetting and it's been hard to sleep at night but I just have to go on. They sort of stole the cream of my collection. Hopefully they might turn up yet.
"You get a liking for them. People would ask me which one's your favourite but I liked them all."
Mr Hopkins, who has one of the largest collections of accordions in the world, said he received a lot of support since the theft happened.
"I have had people writing to me that I don't even know. There was one woman wrote to me from Limerick. She was a German woman and she was in her 80s and she played the accordion but said she is now to old to play it," he said.
"She offered me her accordion -a lot of people have. Some of them are really upset by what happened to me."
Mr Hopkins was visited by two men on 4 August who said they wanted to buy an accordion for their grandfather.
They arranged to meet him in west Belfast a week later but failed to show up.
When Mr Hopkins returned home to Comber he discovered 30 instruments were gone.