What will the visitors bring to the city of culture?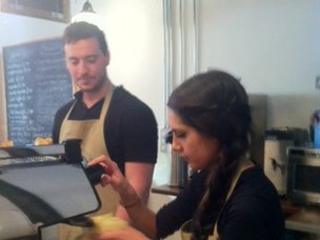 After all the waiting, planning and programming - 2013 is almost here.
As the UK City of Culture, Londonderry will open its doors to visitors from across the world.
Hundreds of thousands of people are expected for the All-Ireland fleadh - a traditional Irish music festival.
The programme for Derry in 2013 includes the Turner Prize, London Symphony Orchestra, Royal National Ballet and Lumiere, a festival of light.
But will the influx of visitors translate into ringing tills for businesses here?
The possibility of prosperity during 2013 has already encouraged some business people to set up companies with the specific aim of making the most out of the City of Culture year.
Chris Gray, 23, a business graduate, moved back from England to his native Derry to open his own marketing company, Admann.
"I was studying business and marketing in Leeds and I came home predominantly for next year," he said.
"I think it's going to be a great year for the city and I'd like to take advantage of it."
Coming home to set up his own business was a prospect that he felt did not seem so realistic in the past.
"It would have been very easy to stay in England because there are a lot of jobs there when you compare it to the likes of Derry," he said.
"I never really saw myself staying in Derry before. It's great, there's an excuse now to come back and it's great to be home" he says.
Michael McLaughlin agrees. He is the manager of the newly-opened Legenderry Warehouse No 1 coffee shop in the city-centre.
"I worked in a café in Belfast for the past four years. I wanted to move home and this opportunity came along and I jumped at it," he said.
Alan McClure is chairman of the Legenderry Warehouse, which has created ten new jobs in the city.
"This could not be a better time in the city" he said.
"Although economics are not great, to have such an influx of people over the whole year coming in is a wonderful opportunity to showcase what Derry people and products can do."
But how sustainable will the business be come 2014?
"I think with any business, if you stand still you're losing pace" says Alan.
"We see life after 2013. I think there is a great legacy to be created here."
In the Waterside, the finishing touches are being put to one of the key venues for 2013, the Pavilion, which will have a capacity for 4,000 people.
The Pavilion stands on the Ebrington site.
The former military barracks has been redeveloped and also has a performance plaza for outdoor events which has a capacity for 14,000 people.
Just a short walk away is Clooney Terrace and Spencer Road, home to many independent traders.
There is optimism among some traders that City of Culture custom will come their way - but others are not so sure
Helena Ferry works at the Leprechaun bakery and coffee shop.
"I don't think people will come this direction if they're coming from the cityside. I think they'll turn and go back across the Peace Bridge. But we are hoping we can get business from both sides of the city," she said.
Molly Moran who runs the Iona Inn and B&B on Spencer Road said they were already booked out for the fleadh.
"We are hoping to do a bit better. We could have booked the B&B twice over for the fleadh but it does well anyhow. I haven't seen anything in terms of extra business so far apart from that though."
Noel Donaghy runs Donaghy's Fish and Chip Shop on Clooney Terrace.
He is hopeful but feels more needs to be done to point people in the direction of Waterside traders.
"I am hoping to get a lot of footfall along the street here. My main issue would be access to here from Ebrington and parking.
"If they get the public coming on to the thoroughfare, it would definitely help."
Andrew Potter is business engagement manager with the Culture Company which is responsible for managing and delivering the 2013 programme.
He said that in terms of a business boost for the Waterside, Derry City Council is open to putting up signage around Ebrington to guide people to nearby shops.
"I think there is a huge opportunity but it is one that needs to be seized," he said.
"There are going to be opportunities for pop-up shops and temporary retail units at Ebrington. If there are concerns about getting the visitors to you, maybe you need to get to the visitors."
The president of Londonderry of Chamber of Commerce, Phillip Gilliland, said legacy was an issue that would be key for all city businesses after 2013.
"We need to be sure that what we are left with is a much higher level of business than existed before the party started and that's not just about retail," he said.
"The legacy must be that the city, as a whole, is an animated vibrant place that has an animated retail, culture and night-time sector.
"These things together are part of the attraction that makes Derry the place that people want to come back to."