Belfast's sympathy for Connecticut women and children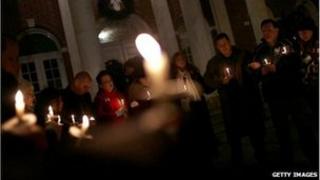 Books of condolence for the 20 small children and six women shot dead in Newtown, Connecticut, are to be opened at Belfast City Hall.
All 20 of the children who were killed were aged between six and seven.
The gunman, named in media reports as Adam Lanza, killed his mother before driving to the school.
Ulster Unionist alderman Jim Rodgers asked that people in the city be given the chance to express their sympathy. The books open at 15:00 GMT.
"Since news of this terrible tragedy at Sandy Hook Elementary School started to filter through on Friday, people have been contacting me to ask how Belfast City Council is going to show solidarity with the families," Mr Rodgers said.
"I asked the lord mayor to open books of condolence on Monday and he has agreed to do so.
"This is a crime that has shocked the world and it is only right that the citizens of Belfast and Northern Ireland have an opportunity to leave messages of sympathy and support for the families."
The books will be given to the US Consulate in Northern Ireland to pass on to the families of the victims.
Lord Mayor Gavin Robinson said the shootings had been "heart-breaking".
"I want to open a book of condolence for the citizens of Belfast or visitors to the city hall to pay their respects to the families of the children and adults who so tragically lost their lives last Friday," he said.
"It must be an extremely difficult time for the families and the school community particularly in the run-up to Christmas when families come together.
"We want to let them know that we are thinking about them here in Belfast and that they are in our prayers."