Maghaberry prison 'is not safe enough'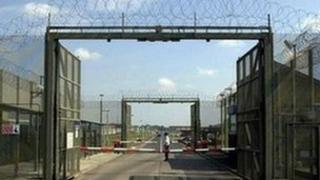 Safety for prisoners at Maghaberry jail is better than it was three years ago, but there is still a long way to go, a new report has said.
Inspectors said support for vulnerable prisoners was improving, but the issues of safety and respect remain.
Brendan McGuigan, chief inspector of Criminal Justice in NI said there was too much bullying and intimidation between prisoners.
He said some progress had been made, but there was significant work to do.
"It is still an establishment where there is too much bullying and intimidation of other prisoners going on within the prison.
"We would like to have seen that change completely - the fact that prison officers were intervening more to ensure other prisoners were not being bullied. One of the issues is that we welcome the fact there is mandatory drug testing going on, however, there is still an issue with prisoners being bullied to hand over their prescription medicines that that in itself creates a black market within the prison," he said.
Mr McGuigan added that many prisoners were spending up to 20 hours in their cells as there was not enough work for them.
"There is a challenge to the prison service to ensure that all of the people who do want to work are given that opportunity," he said.
"There is no doubt that many of these prisoners suffer from mental health issues. It is a greater stimulus to be involved in purposeful activity as opposed to whiling away the hours in their cells."
The latest report raised concerns about supervision in areas where violence might happen. The prison inspection took place in March 2012.
Mr McGuigan said there was evidence of "green shoots" of improvement and he paid tribute to the governor and senior members of staff.
"Maghaberry Prison was assessed against the internationally recognised 'healthy prison' standards which examine the areas of safety, respect, purposeful activity and resettlement," he said.
"Inspectors found there had been some positive developments since 2009 in relation to the critical area of safety.
"Arrangements to support vulnerable prisoners were improving and the multi-disciplinary team in the Donard Day Centre provided excellent care for some very vulnerable individuals. Despite these developments, some gaps still existed,"
The report found there were still unequal outcomes for Catholic prisoners. The inspectors have urged the prison to deliver equality of outcomes for all at the jail.
Mr McGuigan said there were concerns about prescription medication and poor drug treatment processes.
Inspectors felt there was no effective monitoring of violence incidents to identify when or where they were likely to happen and how to prevent them.
Despite high levels of staffing, they found exercise and association areas were not well supervised.
"Maghaberry does not provide a sufficiently safe environment for prisoners held there," Mr McGuigan said.
"The inspection found signs of real improvement which are welcome, but the prison still has a long way to go.
"It does not yet provide a sufficient level of safety and respectful treatment with too many prisoners having insufficient purposeful activity during their time there."
Prison Service Director General Sue McAllister said they would act on the report.
"While there is still much room for improvement, progress has been made in three of the four 'healthy prison' tests, with the fourth remaining unchanged," she said.
"I particularly welcome the improvements in safety, though accept that some issues remain unresolved, and in resettlement, where the outcomes for prisoners were assessed as being reasonably good."