Belfast flag protests: Judge warns of tougher punishment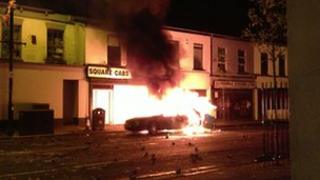 Tougher punishment will be handed out for any further offending linked to loyalist flag protests, a High Court judge has warned.
Mr Justice McCloskey said continued lawbreaking would be treated as an aggravating factor.
The judge's message included anyone charged with obstructing a public highway.
He was speaking as he granted bail to a teenager accused of attacking police in Belfast.
So far, 40 people have been arrested in connection with disorder surrounding the decision to restrict the flying of the union flag at Belfast City Hall.
According to the PSNI, 28 of them have been charged with a range of offences, including rioting, disorderly behaviour, resisting arrest and assault on police.
Nearly 30 officers have been injured during outbreaks of violence across Northern Ireland.
Although no-one has been charged with obstructing a public road, a police spokeswoman confirmed one person has been reported to the Public Prosecution Service for the offence.
One of those accused of involvement in the disorder is Johnathan McClelland.
The 18-year-old, of Tavanagh Street, Belfast, faces a single charge of riotous behaviour over allegations that he threw bricks at officers and kicked a PSNI Land Rover.
Mr McClelland was arrested and later admitted his involvement, the court heard.
Mr Justice McCloskey had adjourned his bail application until more details were given on a training course he has started in a bid to find work.
Curfewed and tagged
After receiving the information the judge agreed to release the accused on tight conditions.
Mr McClelland is to be curfewed at night, electronically tagged and banned from going within one mile of any public gathering.
"I hesitate to use the word protest because protest is an entirely inappropriate appellation for this kind of conduct," the judge said.
And, in a wider warning, he stated: "Henceforth it will be open to sentencing courts to view as an aggravating factor those who continue to offend from today onwards, given the very clear message that is being broadcast successfully by the courts."
Mr Justice McCloskey stressed that the offending was becoming increasingly unacceptable and serious.
Turning to the "hundreds and thousands of people" involved in road blocks, he added that anyone charged with obstructing a public highway would also be held liable.