Rapist Nahab Toufik jailed for Belfast attack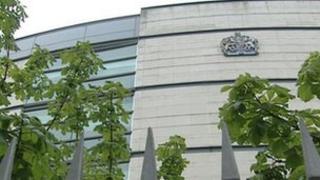 An Algerian rapist who claimed his victim had forced herself on him has been sentenced to 10 years.
Judge Gordon Kerr told Nahab Toufik of South Circular Road, Dublin, will serve five years in jail, followed by five years on licensed parole.
He said the Belfast Crown Court jury had rejected any suggestion his victim "was the prime mover in any of this".
Toufik attacked the 31-year-old woman in north Belfast after offering her a lift in his car in July 2011.
Judge Kerr said that far from encouraging Toufik, who was also put on the Sex Offenders' Register for life, the victim had "made it clear from start to finish" by her struggles and screams that she was not consenting.
Toufik, was convicted last month of raping and sexually assaulting the woman
She had accepted a lift from him after a girlfriend who had been with her in a city centre nightclub, left her on her own.
Toufik drove to a quite side street where he raped and sexually abused the woman.
The judge said one of the most disturbing aspects of the case was Toufik's "dogged refusal" to accept "any wrong-doing", his continued claims of innocence and that he is the "victim" who had "suffered more than" the woman.
Judge Kerr told Toufik that he had "taken advantage of a woman you knew was distressed and had drink taken" and had lied to her about giving her a lift.
Instead of driving her to her mother's place of work, he took her to a side street where he raped her.
Judge Kerr said that the only thing that could be said in mitigation, as acknowledged by his defence QC Peter Irvine, was the fact Toufik had no previous convictions and had a completely clear record.
The judge said he also took into account that Toufik's victim was not subjected to gratuitous violence, save that to achieve his "goal" of rape.