Russian tortoise stolen from Antrim pet shop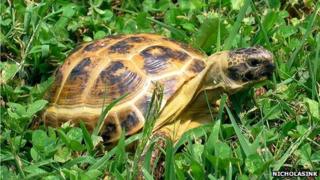 The owner of a pet shop in Antrim is appealing to thieves to return a young tortoise stolen last weekend.
The small horsefield tortoise is just a year old and was taken from its tank in Antrim Pets in Railway Street between 1500 GMT and 1530 GMT on Saturday.
Store owner Stephen Hanna said he is concerned for the animal's welfare.
"The little tortoise was doing really well but it's too young to hibernate and needs lots of specialist care to survive in our cold conditions," he said.
Police are investigating reports that three men entered the store at the weekend and one man may have stolen the pet while the others were chatting to the owner.
"I discovered it was missing when I went into the back and saw the flap lifted on its tank," Mr Hanna said.
"I believe that while I was talking to the two men the other stuffed the wee thing in his pocket. Most of my customers are regulars but I'd never seen these three before."
'Very sociable'
He said the men spoke with broken English accents.
The tortoise, which is a Russian breed sells for around £100, but Mr Hanna said he is not worried about the price tag.
"Had it been stock I probably wouldn't even have bothered with calling the police but it's a living creature. I think it may be too late now but I just hope it's being looked after," he said.
Horsefield tortoises can live for up to 75 years. They are very sociable and make good pets.
They are herbivores and eat lettuce, leafy greens, vegetation and flowers but also need plenty of fresh water. Normally the tortoise is kept in a tank with heating and a UV light.