Dunnes Stores settle 21.6m euro debt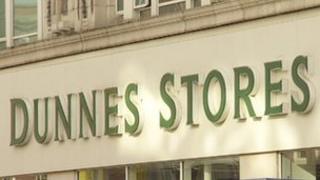 Irish supermarket chain Dunnes Stores has settled a 21.6m euros debt, the Commercial Court in Dublin has been told.
A petition to wind up the company over the debt has now been withdrawn.
Dunnes Stores said that its earlier reasons for non-payment were genuinely held and no discourtesy to the court was intended.
The judge had said that the earlier refusal to settle could have been viewed as a challenge to the authority of the court.
The debt dispute was over building works at a shopping centre in County Kilkenny.
Holtglen Ltd built the Ferrybank shopping centre in which Dunnes agreed to be the anchor tenant.
The shopping centre was completed in 2009 but Holtglen later became insolvent and its Bank of Ireland loans were transferred to National Asset Management Ltd (NALM), a company of the National Asset Management Agency.
Dunnes Stores was founded in 1944 by County Down-born draper, Ben Dunne Sr.
The Rostrevor native opened his first clothing store in Cork in 1944.
The company now employs 18,000 people and operates over 155 stores across Ireland, the UK and Spain.