Gas fracking: Decision will be made in Stormont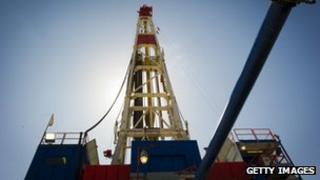 Northern Ireland's Environment Minister Alex Attwood has said that any decision on fracking in Northern Ireland will be made at Stormont.
Mr Attwood was speaking after the government approved the resumption of the technique in Lancashire.
An Australian company, Tamboran, has a licence to explore the method of gas extraction in County Fermanagh.
"I have warned against a head long rush in to fracking and I repeat that," Mr Attwood said.
"The planning and environment issues around any energy proposal fall to the Department of Environment (DoE). Those responsibilities will be robustly and faithfully honoured on any proposal for fracking. I will make sure that this applies to any action or proposal by Tamboran.
"There has been no planning application lodged to date. If one is forthcoming, it may be judged to be an Article 31, to be decided by the DoE minister. This has happened with other energy applications.
"Further, in the fullness of time, it may be decided that there should be a public inquiry. This has also happened with other energy applications."
Tremors
In fracking, a mixture of water, sand and some chemicals are pumped into a well under high pressure to force the gas from the rock.
The government imposed a moratorium on fracking in Lancashire last year, after two small earth tremors near Blackpool which were believed to have been triggered by test drilling by the firm Cuadrilla.
Energy Secretary Ed Davey said there would be new controls to reduce the risk of seismic activity.
He said the government had uncovered management weaknesses in Cuadrilla following the minor earthquakes. These had been put right, he said.
Mr Attwood said safety was a fundamental issue.
"The science on this is still developing. Research is continuing in Europe, in America and on this island," he said.
"It will be some time before that research is concluded. This is one of the crucial pieces that needs to be assessed when looking at the fracking picture."
In the US, exploitation of the shale gas boom has sent energy prices tumbling, and Prime Minister David Cameron has expressed hopes that the UK can enjoy a similar boom.
Government advisers warned on Wednesday that shale gas may be unlikely to bring down energy prices by much in Britain.
The Committee on Climate Change (CCC) warned that relying heavily on gas for future electricity supplies would leave households vulnerable to higher bills in the long run as the price of gas on the international market is volatile.
Impact
The UK is unlikely to benefit from substantially lower prices unless the rest of Europe decides to back shale gas too, as Europe has a gas grid that allows gas to be traded to the highest bidder.
The CCC has examined the potential impact on bills of different energy systems and predicts that subsidies to renewables and nuclear would put about £100 on household bills by 2020, but that by 2050 a gas-based electricity system might cost people as much as £600 extra.
Environmentalists are more cautious following incidents in the US in which fracking has been associated with pollution of water through the chemicals involved in the process, as well as leakage of methane - a powerful greenhouse gas as well as a local air pollutant.
They say fracking will generate much more opposition in the UK than it has in the US as it involves turning green fields into industrial sites.
They also worry that an abundance of domestic gas will tempt politicians to abandon targets for cutting greenhouse gases, which are rising inexorably globally to the alarm of scientists.