Translink to increase Northern Ireland train services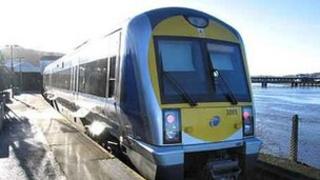 Translink, Northern Ireland's public transport company, has said that it will be increasing services and the number of carriages on trains.
Launching the firms new rail timetable, General Manager Mal McGreevy said buying 20 new trains was paying off.
He said they had enabled 20% extra seating, a more frequent service on the Larne line and an hourly service between Belfast and Coleraine.
There will also be more services calling at the Titanic Quarter station.
"The proof of success is in the steadily growing numbers of passenger now choosing the train as their preferred way to travel," he said.
"In 2011/2012, a record 10.7m people used the train, which is a 70% increase over the last decade and we are on target to exceed 11m passenger journeys this year."
The new rail timetable will be introduced on 6 January 2013.