Union flag: DUP's Arlene Foster urges end to street protests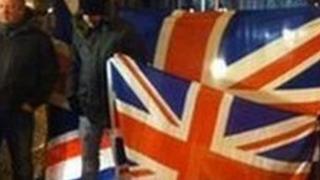 The DUP investment minister Arlene Foster has called for people involved in the flag protests in Northern Ireland to take them off the streets.
Ms Foster said she was very concerned about the impact on local traders.
Violence has followed some protests over last week's decision to limit the number of days the union flag is flown at Belfast City Hall.
There were more protests on Thursday, including one attended by DUP assembly member William Humphrey.
Mr Humphrey was at a peaceful loyalist protest blocking the Crumlin Road at Cambrai Street in north Belfast.
He said that he was there to show solidarity and that he had "no doubt he has the support" of Peter Robinson for his presence. Last week Mr Robinson called for the protests to be suspended.
"This protest is not damaging the economy, this is showing the anger and frustration and deep hurt that there is in this city of people who are decent loyal citizens of this kingdom who want their flag restored to the city hall," Mr Humphrey said.
Speaking on BBC Radio Ulster's Evening Extra programme, Ms Foster appealed directly to protesters saying: "Take it off the streets and let's make it into a process where we can all move forward together in a unified way.
"This party has always been talking about coming together and unifying and moving the union forward because we believe in the union, it's good for everybody in Northern Ireland.
"So let's make that a reality."
Ms Foster said the timing of that debate had been "wrong headed".
Violence
Speaking on the BBC's the View DUP Health Minister Edwin Poots outlined the apparently different stances.
"Arlene Foster is quite right to support our business community and that is why we don't want protests that disrupt business or cause violence," he said.
He said that denying people the right to hold a legitimate protest "would be facism".
Speaking on the same program Sinn Fein's Gerry Kelly said that a "period of calm" was needed to help find a solution.
"I think the wrong way to do it is by way of a unionist task force," he said.
"We had that after the St Patrick's incidents, unionists will not sort this out on their own, it needs to be everybody involved, and be more than about Britishness it needs to be about Irishness as well, it needs to be about equality."
In a statement, SDLP enterprise trade and investment spokesperson Patsy McGlone has said Ms Foster's call for flag protests to stop for the sake of the local economy "is long overdue".
The mid-Ulster MLA said: "The minister has known for days the impact that these protests are having on the local economy, but she and her party have hidden behind partisan politicking against the democratic decision of Belfast City Council.
"If she is so determined to make Northern Ireland a successful region, why has she let traders down by keeping silent for so long?"
PUP leader Billy Hutchinson said his party wants a new think tank involving unionists and loyalists to deal with the flags issue and other areas of concern.
He also criticised Sinn Fein's stance on flags.
"Sinn Fein are acting outside of the spirit of the Good Friday Agreement," he said.
"For to call for reconciliation at Westminster in September/October time and then remove a flag, where's the reconciliation in that?"
In the past week, violence has flared in parts of Northern Ireland in the wake of the street protests.
At least 29 police officers have been injured and 38 people arrested.
Alliance Party members and premises have been targeted by loyalists since last Monday's vote on the city hall flag.
Two senior DUP members - Jeffrey Donaldson and Edwin Poots - have also been warned of death threats, which they believe are from dissident republicans and linked to their stance on the flags issue.
Alliance, Sinn Fein and SDLP councillors voted to limit the flying of the flag while the Democratic Unionist Party (DUP) and Ulster Unionists (UUP) opposed the move.