Concerns over low stocks of blood in Northern Ireland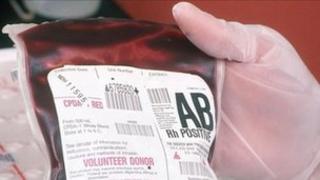 There is growing concern over low stock levels of blood and platelets as the Christmas holiday approaches, the NI Blood Transfusion Service has said.
The service's Paul McElkerney said that due to circumstances, this year "had proved especially problematic".
He said up to 25% of intending donors were deferred through colds, flus or being tattooed within the past year.
Other reasons, he said, were poor weather, Christmas shopping and the recent disruption to the road network.
'Medically deferred'
"We are appealing for those blood donors called to their local session to make an extra effort to attend and, if you ever thought of becoming a new blood donor, now would be a great time," Mr McElkerney said.
"At any time of the year, out of every 100 people coming forward to donate blood, approximately 16% to 17% would be medically deferred for varying periods of time.
"However, with the onset of winter a higher number of people have presented themselves at blood donation sessions with illnesses and the deferral figure has risen to nearer 25%."
"Literally speaking, if you give blood now you will save someone's live within three to four days and this could help them live to enjoy Christmas and the New Year," Mr McElkerney said.
To enrol to give blood you can text the word blood to 60081, call 0500 534666 or to find your local blood donation session visit www.nibts.org.