Conal McDevitt and Guy Spence receive death threats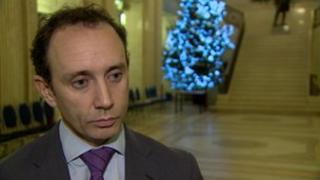 Two Belfast politicians are the latest to receive death threats amid ongoing protests over flags.
The SDLP's Conal McDevitt, MLA, and the DUP councillor, Guy Spence, received the threats on Thursday.
Mr McDevitt got the threat in the post and the threat to Mr Spence was made in a telephone call to Belfast City Hall.
Over the past few days, death threats have been issued against members of the Alliance party, Sinn Fein and the DUP.
In a separate incident, the DUP said its constituency office in Richhill, County Armagh, has been vandalised.
The office is used by the Newry and Armagh MLA William Irwin.
The windows of the building have been smashed and paint has been daubed on the walls.
There have been a series of attacks on the homes, cars and offices of public representatives since the beginning of the flag dispute on 3 December.
It followed a decision by Belfast City Council to restrict the flying of the union flag at Belfast City Hall from 365 days a year to designated days only.
Since then, death threats have issued against the DUP leader and First Minister, Peter Robinson, his party colleagues Edwin Poots and Jeffrey Donaldson, Sinn Fein's Gerry Kelly and Jim McVeigh and the Alliance MP Naomi Long.
There has also been an attempt to murder a policewoman who was guarding Ms Long's constituency office in east Belfast on Monday evening.
Earlier on Thursday, a 34-year-old unemployed man was remanded in custody, charged over a telephone death threat made against Mr Robinson on Wednesday.
In response to the latest incidents, Mr McDevitt, Mr Irwin and Mr Spence said threats and attacks would not prevent them from carrying out their duties as public representatives.
The SDLP MLA said: "The police are investigating a specific threat against me.
"This will not deter me from representing the people of South Belfast and working for an inclusive, peaceful and prosperous society."
Mr Irwin said the attack on his office would "not hinder my work in representing the people of Newry and Armagh".
The DUP MLA added: "Whilst this incident does not compare to some of the other disgraceful attacks and threats on elected representatives, it is an attack on the democratic process nonetheless.
"Attacking democratic facilities and services is mindless and completely pointless when such facilities are in place to serve our communities' needs."
Mr Spence commented on the social network site Twitter: "Today's threat against me by republicans will in no way deter me from continuing the work I've been doing for the people of north Belfast."