Future of children's heart surgery in Northern Ireland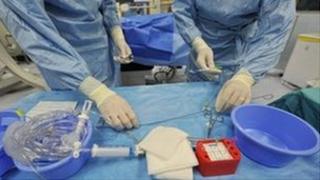 The Health and Social Care Board (HSCB) has urged everyone with an interest in the future of children's cardiac surgery to ensure they have their say.
A consultation process on the future shape of children's heart surgery closes on 21 December.
The HSCB said a working group would analyse the responses for consideration by the health minister.
A spokesperson said consultation documents and response forms could be accessed on the board's website.
'Strongly encourage'
The minister is expected to make a decision on the future model for provision of paediatric cardiac surgery and interventional cardiology for Northern Ireland in early 2013.
Five public meetings have been held across Northern Ireland in Enniskillen, Ballymena, Londonderry, Belfast and Craigavon in November and December.
Dean Sullivan, chair of the working group, said he would "strongly encourage anyone who has not yet responded to the consultation to make a contribution".
"The Health and Social Care Board is committed to securing future arrangements that provide a high quality, safe, sustainable, accessible and timely service for children from Northern Ireland," he said.