Molloy to contest Mid-Ulster when McGuinness steps down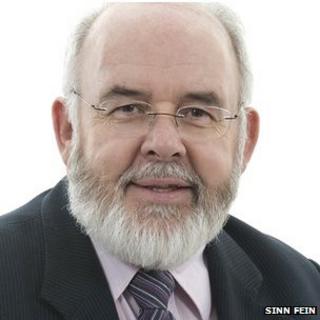 Sinn Fein's Francie Molloy will contest the Mid-Ulster Westminster by-election when Martin McGuinness steps aside.
The veteran republican was selected at a party meeting in Gulladuff on Wednesday.
Sinn Fein is ending the practice of double jobbing and Mr McGuinness will be focusing on his duties as deputy first minister.
Mr Molloy, 62, was the director of elections for the Maze hunger striker Bobby Sands.
He is the current deputy speaker of the Northern Ireland Assembly.
Mr McGuinness was elected MP for Mid-Ulster in 1997, but he has never taken his seat in Westminster.
The party has an abstentionist policy, with all of its MPs refusing to attend Parliament.