Limavady SDLP office vandalised, union flag erected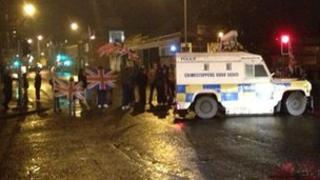 The Limavady office of an SDLP assembly member has been vandalised.
East Londonderry MLA John Dallat said that a party sign was torn from the wall and a union flag was placed on the nationalist party's building.
He said he believed it was linked to a protest over the decision to limit the number of days the union flag is flown at Belfast City Hall on Tuesday.
Meanwhile, there have been more flag protests across Belfast.
At least 150 loyalists blocked the Albertbridge Road near the interface with Short Strand. There was a significant police presence monitoring the protest, which was peaceful.
Other protests have taken place in the lower Shankill, Carlisle Circus, Ormeau Road, Donegall Road and the Upper Newtownards Road.
One man, aged 24, was arrested for disorderly behaviour and obstructing a road during the Ormeau road protest. Police said he was released pending a report to the PPS.
Mr Dallat said that he was dismayed his office had been targeted.
"While this is mild compared to what has happened to other elected representatives, it is nevertheless deeply annoying.
"I believe this is linked to a protest outside Limavady Council offices earlier in the night.
"Those involved have caused fear among my staff who serve the whole community and while I will not be intimidated I am mindful that I do not want to see anyone hurt or the building - which is rented - damaged.
"I have been in public life for nearly 40 years and find the current intimidation the worst for many years.
"I find it totally hypocritical that people who claim their Britishness is being undermined want to impose their flag on me and rip down the sign promoting my political party."
In the past week, as trouble flared across Northern Ireland, 29 police officers have been injured and 38 people arrested in trouble over the limitations on flying the union flag..
Alliance Party members and premises have been targeted by loyalists since last Monday's vote on the city hall flag.
A gang of six men smashed the back window of the policewoman's car as she watched the east Belfast office of Alliance MP Naomi Long.
They threw in a petrol bomb, but the officer managed to escape unhurt.
Two senior DUP members - Jeffrey Donaldson and Edwin Poots - have also been warned of death threats, which they believe are from dissident republicans and linked to their stance on the flags issue.
Alliance, Sinn Fein and SDLP councillors voted to limit the flying of the flag while the Democratic Unionist Party (DUP) and Ulster Unionists (UUP) opposed the move.