National Trust members urged to lobby MLAs over planning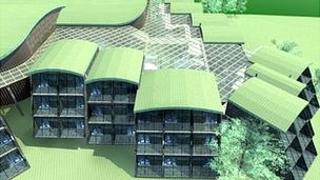 The National Trust has sent members a letter saying that if a golf resort near the Giants Causeway goes ahead, "nowhere is safe from development".
It said Northern Ireland needs a planning system that "works properly".
A legal challenge is being mounted against the decision to give the go-ahead for the £100m resort.
In a statement the Department of the Environment said Minister Alex Attwood believes "environmental issues can be reconciled with economic opportunity".
The National Trust asked it 60,000 members in Northern Ireland to lobby MLAs and the Stormont Executive to bring about changes in the planning process.
The letter says if the resort at Runkerry on the County Antrim coast goes ahead nowhere, "no matter how special or protected", is safe from development.
Earlier this year, the National Trust came under attack from several quarters over its decision to legally challenge the resort, which would be a mile from the Giant's Causeway.
DUP MP Ian Paisley Jr described the challenge as a "disgrace to Northern Ireland".
Mr Paisley said he feared court action would take two years and the developers would begin looking elsewhere.
The application to build an 18-hole golf course and hotel complex was given the go-ahead in February.
The judicial review into the planning approval for the golf resort will be heard in the High Court next month.
In a statement the Department of the Environment criticised the letter.
"The National Trust letter does not acknowledge the financial, planning and material contributions of central and local government and its agencies to the particular work of the National Trust and to the general protection and positive development of the wonderful natural, built and archaeological heritage of Northern Ireland," it said,
"Indeed, the evidence of the work of government, its agencies and its partners - including but not exclusively the National Trust is all around us. All those who so contribute - including government - should be acknowledged and applauded."