Pauline Haveron murder: Accused 'did things that cannot be forgiven'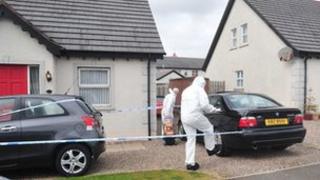 A former police officer accused of murdering his ex-wife told a friend he had done things that "cannot be forgiven," a court has heard.
Joseph Haveron, 58, made the comment to his friend Desmond Campbell four days after his ex-wife Pauline was killed, the jury at Belfast court was told.
Haveron, from Farm Lodge Grove in Greenisland, is accused of murdering his wife Pauline on 18 April 2010.
Mrs Haveron was found dead in her own home by her lover, Andrew Jones.
Mr Jones, who was a friend of their son Jonathan Haveron's, found her floating face down in the bath at her Huntingdale Green home in Ballyclare but she had in fact been strangled.
At the time of the killing the retired police sergeant and his part-time nurse wife had come through an acrimonious divorce having separated in 2003 and the jury have heard their eldest child Mr Haveron recount how he witnessed numerous bouts of domestic abuse over the years.
'Distressed'
They have also heard allegations that during one argument Haveron pointed his gun at his wife's and that he "pistol-whipped" her.
Desmond Campbell told the jury how during a sermon about relationships with partners and children at the Whitewell Tabernacle Church, Haveron put his arm up indicating that he wanted to speak afterwards.
He recounted how the former policeman looked "a bit uneasy and distressed" and that Haveron told him "he had been a poor father and a poor husband and that things had happened in his life that he was sorry about".
"I replied that we all have done things in our lives that wasn't right," said Mr Campbell adding that Haveron told him "that he had done things that he cannot be forgiven for".
Under cross examination, Mr Campbell agreed that to his mind Haveron was saying that he could not be forgiven for being a poor father and husband.
"You didn't take anything more sinister out of it at the time," suggested the lawyer and the witness agreed: "Not at all."
The jury also heard evidence regarding the divorce settlement lawyers had reached when the couple parted.
Haveron bought his wife's share of the family home in Greenisland for £62,500, enabling her to buy her home in Huntingdale and he also paid her lump sums of £82,015 and £67,984 in October and November 2009.
There was also a further agreement that Mrs Haveron was due 25% of her husband's police pension amounting to just over £5,000 per year.
While the couple's respective solicitors told the court that agreement had been reached months beforehand, it was signed off by the parties just five days before Mrs Haveron was killed so nothing was put in place that would affect the retired officer's pension.
The trial continues