Stormont nets £3m by auctioning property and goods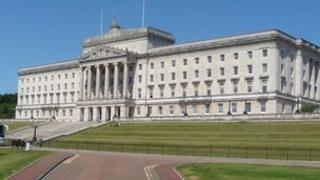 The sell-off of goods and property by Stormont departments at public auctions has netted more than £3m over the past three years.
However, the Stormont MLA who obtained the figures said there was a need for greater transparency.
UKIP's David McNarry, who represents the Strangford constituency, has called for a public register to be kept.
The Department of the Environment benefitted the most at £1.7m, followed by the Department of Justice at £1m.
The details were given in a series of answers to Assembly questions posed by Mr McNarry.
They reveal a property at Priory Park in Holywood, County Down, raised £45,000 after it was sent to auction in June by the Department for Regional Development.
'Taxpayers' money'
Cars, chainsaws, office equipment and even a dishwasher were also among the items sold.
Mr McNarry said: "The assets disposed of by auction were originally purchased using taxpayers' money.
"So, the amount raised should be a matter of public record. It should not be down to asking a question to each minister to get this information into the public domain."
Three departments said they had sold nothing, the Department of Education, the Department of Employment and Learning and the Department of Enterprise, Trade and Investment.
But Mr McNarry queried this, stating: "I find it hard to accept that the departments which told me they had made nothing from disposals really had made nothing.
"Are they seriously saying that none of the equipment they bought a decade ago or more ago has not been sold on?
"If it has not, did they dispose of it and how did they dispose of it?," the MLA asked.