Belfast measles outbreak declared by health agency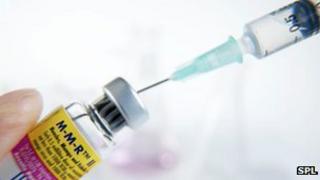 The health authorities in Northern Ireland have declared a measles outbreak after four cases were detected in children in south Belfast.
The Public Health Agency (PHA) said that those with the highly infectious disease had not been vaccinated.
The PHA has contacted the parents of other children who may have been exposed to the infected children.
They have been advised to protect unvaccinated children with the MMR (measles, mumps and rubella) vaccine.
Dr Richard Smithson is a consultant in health protection with the PHA.
He said there was a high uptake of the vaccine in Northern Ireland, where outbreaks are fewer compared with the rest of the UK and with the Republic of Ireland.
"However, cases which have occurred here in unvaccinated people are of serious concern and remind us that there is no room for complacency," he said.
"For those children and young people who have not been vaccinated, it is essential that they get vaccinated as soon as possible."
He said that anyone who may have been in contact with a measles case and who feels at all unwell should stay at home as this is an infectious condition even before the associated rash develops.
"If medical advice is needed, then they should phone the GP or out-of-hours service so that arrangements can be made to see the patient without putting others at risk," he added.
GPs, hospital staff and emergency department staff have received letters advising them to be vigilant for measles in patients presenting to them.
In some cases (one in 2,500-5,000), measles can cause death. It is highly infectious to the unvaccinated.
Although most common in children, it can occur at any age.
The latest MMR uptake is 95.3% for one dose, taken by two years of age, and 91.4% for two doses by five years of age. The World Health Organization (WHO) has a target of 95% for both doses.