Flybe plane in emergency landing at Belfast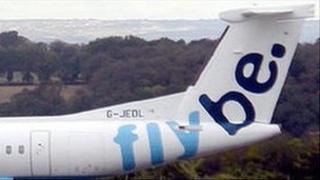 A passenger plane has been diverted to Belfast International Airport after the pilot declared an emergency on Wednesday.
The Flybe Dash 8, on a flight from Southampton, was due to land at Belfast City Airport but was diverted when a problem developed with the aircraft.
A spokesman for Belfast International said the problem was not weather-related.
The craft's 53 passengers were bussed to the city airport.
In a statement, Flybe apologised for the inconvenience and said the safety of its passengers and crew was the airline's number one priority.
"Flybe can confirm that Flight BE986 from Southampton experienced a technical fault which required a longer runway for landing than that available at Belfast City Airport." the company said.
"The pilot therefore elected to divert to Belfast International Airport where the aircraft landed normally and the 49 passengers and four crew disembarked safely and without incident.
"Coach transportation was immediately provided on to Belfast City Airport.