MI5 role key aspect of Finucane review by Desmond de Silva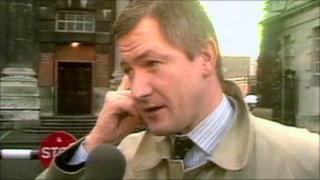 Perhaps the most significant finding in the government ordered review to be published later into allegations that the state colluded in the brutal murder of Belfast solicitor Patrick Finucane will be what it says about the role of MI5.
The year long review has been conducted by Sir Desmond de Silva QC, instead of a public inquiry that the Finucane family had been promised by Tony Blair's government.
Sir Desmond has been asked to provide a full public account of any involvement by Military Intelligence, the police Special Branch and MI5 in the solicitor's murder.
All three organisations have already been found to have colluded in his death by the former Metropolitan Police Commissioner Sir John (now Lord) Stevens and separately, by a review of this and other material by a Canadian judge, Peter Cory, appointed by both the Irish and British governments.
MI5 had overall supervision of the intelligence gathering services in Northern Ireland during the Troubles.
Mr Finucane frequently acted for prominent members of the IRA and some members of the security services appear to have believed he was too close to the IRA.
'Very professional'
However, at his inquest, the detective investigating his murder said there was no evidence that Mr Finucane was a member of the IRA and the coroner said he was regarded in police circles as "very professional".
Mr Finucane was shot by gunmen from the loyalist Ulster Defence Association.
My understanding is that at about the time of Mr Finucane's murder, the UDA was penetrated at a senior level by three MI5 agents.
According to Justice Cory, MI5 was warned three times that Mr Finucane was being targeted for assassination, the latest being seven weeks before he was shot.
However, MI5 appear not to have informed Special Branch, though it is by no means clear that had they done so, the Branch would have done anything about this since they too had heard from one of their own informants that a "hit on a top IRA man " was imminent and did nothing to stop it. Nor did the Branch help the CID catch the killers.
A key question for the de Silva review is this: was no action taken to warn Mr Finucane because elements in the police, military intelligence and MI5 wanted him dead; or, did agent security take precedence over the need to warn him that his life was in danger?
We know that the Military Intelligence agent, the late Brian Nelson, who had been tasked by his handlers to help make loyalists targeting "more professional", primed one of Mr Finucane's killers with a photograph of him and also pointed out where he lived.
Promise
The shooting itself was frenzied and witnessed by Mr Finucane's wife Geraldine and their three young children: six bullets to his head as he lay on the ground. The family had just sat down to dinner when two hooded gunmen barged through the front door.
When he was prime minister, Tony Blair promised that if a judge appointed by both London and Dublin found there was a case to answer, a public inquiry into his death would be held.
However, after Justice Cory so recommended, the Blair government then passed a new law replacing the 1921 Tribunal of Inquiries (Evidence) Act with the Inquiries Act of 2005, section 19 of which gives ministers the power to restrict public access to information and to order parts or even all of a public inquiry not be held in public but in private.
After lengthy delays, the Finucane family were negotiating the possibility of a public inquiry being held under the new 2005 Act without section 19 being applied, when the Cameron government was elected.
Mr Cameron decided that instead of a public inquiry, a document-based review by Sir Desmond should be conducted.
The review was promised full access to all files held by MI5 and the Stevens Inquiry - all 13.5 tons of them. All government departments including MI5 were also ordered to "comply fully with the review".
In practice, I gather it has not been that simple.
The review is said to have limited resources, and access to the Stevens files, now under control of the Police Service of Northern Ireland, has not been straightforward. Also MI5 has occasionally required Sir Desmond to justify why he wanted to publish certain documents.
Sir Desmond has been able to question witnesses but he has not had the power to conduct oral hearings and all this has taken place behind closed doors.
Cost
The Finucanes believe that a public inquiry where the veracity of documents and witnesses can be tested under cross examination is the best way of getting to the truth.
In refusing a public inquiry, Mr Cameron cited costs as one reason.
But when he met the Finucanes at Downing Street in October 2011, he is also reported to have said that there "are people in buildings all around here (meaning 10 Downing Street) who won't let it happen".
Which rather begs the question: who runs the country?
Cynics in Northern Ireland believe the de Silva inquiry has been set up to fail.
However Sir Desmond has written to Geraldine Finucane to say that he has drawn some "hard hitting conclusions".
They will need to be very hard-hitting to persuade the Finucanes and a sizeable section of the nationalist community that the whole truth and nothing but the truth finally has been prised from the clutches of the secret state.
John Ware was a BBC reporter whose 2002 Panorama "A Licence to Murder" disclosed police and army collusion in the murder of Pat Finucane.