Jeffrey Donaldson and Edwin Poots threatened: DUP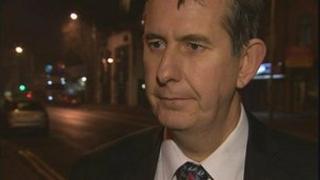 The DUP has said two senior members of the party - Jeffrey Donaldson and Edwin Poots - have been warned of death threats against them.
Mr Donaldson said: "Police this morning received a serious threat to the effect that myself, my wife and children and my colleague Edwin Poots, his wife and children would be shot."
He said police were taking the threats "very seriously".
Mr Poots said he believed the threat was from dissident republicans.
He said it may be linked to the issue of the flying of the union flag.
"Clearly it's an issue that's prevailing at this moment in time and I have a very clear stance on that, that the flag should be flying more at Stormont, that I'm totally opposed to what's happened at Belfast City Hall," he said.
"It doesn't surprise me that republicans would want to counter that in a violent way, that's back to form.
"It's not something that's new for them, but it something that we will resist."
Mr Donaldson, the MP for Lagan Valley, added: "Whatever they may think of my politics as a unionist and someone who is proud to be British, it is beyond belief that people would target my wife and children in this way.
"I won't be intimidated by these threats, just as I have not been intimidated by such threats in the past but this is the first time my family has been threatened in this way."
Mr Poots is the Northern Ireland health minister and also MLA for Lagan Valley
News of the threats was first revealed by party leader Peter Robinson, although he did not name Mr Donaldson and Mr Poots.
"The police have met with two senior members of my party to indicate that not only their lives, but the lives of their families are in danger," he told the BBC.
"I view that very seriously and that's why - because it's happened to me in the past , it's happened to many of my colleagues in the past - that I can empathise with the likes of Naomi Long who faces that kind of threat."
Ms Long, the MP for East Belfast, received the threat following loyalist outrage at a council decision to limit the flying of the union flag at Belfast City Hall.
There have also been threats against Alliance councillor Laura McNamee, and Sinn Fein's Gerry Kelly and Jim McVeigh.
Deputy First Minister Martin McGuinness said all the threats should be withdrawn immediately.
"The threats against Jeffrey Donaldson, Edwin Poots and their families are wrong and should be withdrawn immediately," he said.
"There is no justification for this type of intimidation from any grouping or organisation."