Ninth day of flag protests in Northern Ireland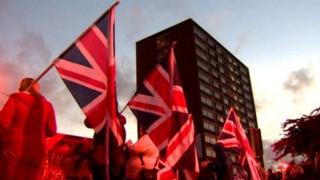 There has been a ninth day of loyalist protests over the decision to limit the number of days the union flag in flown at Belfast City Hall.
Roads were blocked for a time in parts of Belfast.
Protests were also held in towns and cities such as Londonderry, Magherafelt, Portadown and Limavady.
Earlier, the leader of the Progressive Unionist Party called on paramilitary groups to expel members involved in flag protest violence.
On Monday night, a police car was petrol bombed in east Belfast while a female officer was inside.
PUP leader Billy Hutchinson, a former UVF prisoner, condemned the attack.
"If individual members are involved, then I think the loyalist organisations need to think about how they deal with that and what I'm talking about is through democratic means," he said.
"If that is the case, I would be hoping that the loyalist leadership, if they are aware of this and have evidence that people were (involved in violence), then they would expel them from the organisations."
The PUP is linked to the Ulster Volunteer Force (UVF).
It is understood the UVF leadership met in Belfast on Tuesday afternoon to discuss its position.
Police have said senior members of loyalist paramilitary groups working at local level were orchestrating violence, but said that the leaderships of those organisations may not be involved.
The attack on the police car, which was guarding Alliance Party MP Naomi Long's east Belfast office, is being treated as attempted murder.
Northern Ireland First Minister and DUP leader Peter Robinson said all unionists wanted "the folly" of what was happening on the streets to stop, but said it would be hard to persuade those involved in violence.
"People who are so proud of the flag that they have to cover their faces I think are going to be very hard to reach," he said.
"We'll talk to those organisations that we know are there who may have influence on the street and a lot of them are already working to try and calm things down.
"But there is no rationale - how do you call yourself a loyalist and then throw a petrol bomb into the back of a police car, it's absurd."
The NI secretary of state said those involved in the recent violence were "dishonouring and shaming the flag".
Ulster Unionist leader Mike Nesbitt has called for the protests to stop.
In the past week, as trouble flared across Northern Ireland, 29 police officers have been injured and 38 people arrested.
The latest and more serious incident took place on Monday at 19:35 GMT, when a gang of six men smashed the back window of the policewoman's car, which was parked on the Upper Newtownards Road, and threw in a petrol bomb.
The woman escaped unhurt.
Ulster Unionist leader Mike Nesbitt said on Tuesday that violence associated with protests could not be tolerated.
"It is anti-British to attack a police officer, it is anti-British to attack an elected representative," he said.
"Peaceful protest is fine but the chances of conducting protests without this kind of repercussion is so high that I have to ask people to give up their right."
Ms Long, the MP for East Belfast, received a death threat last week. A police car has been stationed outside her office since then.
Condemning Monday night's attack, Ms Long said: "There is no doubt in my mind that the car was targeted because it was undertaking patrols in the vicinity of my office and I find that absolutely repugnant."
Assistant Chief Constable George Hamilton said: "This was a planned attempt to kill a police officer which also put the lives of the public in danger and it is fortunate there were no injuries as a result of this attack.
"I am urgently appealing to those involved in ongoing protests to listen to their political leaders and step back from protest activity before someone is seriously injured or killed."
Asked about loyalist paramilitary involvement in the violence, he said: "Loyalism is very fragmented."
"What you have is people at a local level in some ways disconnected from the senior leadership of those organisations actively involved in violence."
Ms Long said recent attacks on the Alliance Party bore "all the hallmarks of a pogrom".
Her party colleague, the North Down Alliance MLA Stephen Farry told the assembly on Tuesday there had been a second attempted arson attack on his constituency office in Bangor, County Down, on Monday evening.
Rioting
Labour's shadow Northern Ireland secretary Vernon Coaker said the government needed to act.
There was also rioting in the loyalist Village area of south Belfast on Monday night, while rival crowds had to be separated close to the Short Strand area of east Belfast.
Police are also investigating reports of an attack on a bar in Thomas Street, Armagh, which is owned by the husband of a Sinn Fein councillor.
At about 21:50 GMT, a car struck three men on the Newry Road in Armagh before being driven away. There was a loyalist protest in the area at the time.
A 17-year-old boy who was arrested has been released on police bail.
Alliance Party members and premises have been targeted since last Monday's vote on the city hall flag.
Alliance, Sinn Fein and SDLP councillors voted to limit the flying of the flag while the Democratic Unionist Party (DUP) and Ulster Unionists (UUP) opposed the move.
Rush-hour traffic was also disrupted in Belfast on Monday by a series of protests.