Irish minister launches survey on Northern Ireland school option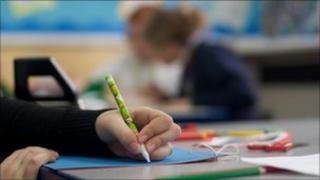 The Irish Republic's education minister has launched a survey of families living in its border area to assess the demand for the option of sending their children to school in Northern Ireland.
It will concentrate on pupils living within six miles of the border.
In October, a survey was handed out in Northern Ireland schools within 12 miles of the border.
It could pave the way for more children to be educated in one jurisdiction while living in another.
The findings will also be used to help future planning of schools.
A decision to carry out the joint survey was agreed earlier this year by Northern Ireland Education Minister, John O'Dowd, and his counterpart in the Irish Republic, Ruairi Quinn.
The initiative has been described by Mr Quinn as "an excellent example of cross-border co-operation".
"The aim of this survey is to find out how much interest there is from parents in cross-border primary and second-level schooling," he said.
"The results of the surveys will be examined and discussed at the next North South Ministerial Council in February."