Pauline Haveron's son says father cried when told of death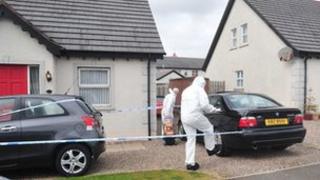 The son of a retired police officer accused of murdering his wife has described how his father "burst into tears" when he heard of her death.
Matthew Haveron told Belfast Crown Court that he and his father Joseph had just returned home having had lunch with his grandparents when his father received a telephone call.
"He hung up the phone and burst into tears," he said.
"I had never seen my father act like that before," Mr Haveron added.
"He said 'I'm so sorry son' repeatedly and I kept asking him what was wrong. It was quite scary for me because I didn't have a clue what was happening."
Mr Haveron, who was 18 when his mother Pauline was murdered, did not find out what had happened until they got to his aunt's house in Parkgate, just outside Ballyclare and his brother Jonathan told him their mother was dead.
Retired police sergeant 58-year-old Haveron, from Farm Lodge Gate in Greenisland, denies murdering his 53-year-old wife Pauline.
Her lover Andrew Jones, who was a friend of Jonathan's, found her floating face down in the bath at her Huntingdale Green home in Ballyclare but she had in fact been strangled.
'Odd mood'
At the time of the killing, Haveron and his part-time nurse wife had come through an acrimonious divorce having separated in 2003 and the jury has heard their eldest child Jonathan recount how he witnessed numerous bouts of domestic abuse over the years.
The couple's youngest child Matthew said that to him, Mr Jones was "just a friend" but revealed that he was also his ICT tutor for A levels and GCSEs.
He told the court that, as was usual since his parents had separated, he spent the weekend at his father's house, describing how he seemed to be in a "good mood" when he spoke to him on the Saturday.
Matthew said on Saturday night he went to bed between 11pm and midnight, leaving his dad watching TV and then in the morning, his father had woken him to see if he was going to church.
Asked how his mood was when his father came back from church, Matthew told the lawyer "he seemed quite off, just in an odd mood".
"He seemed very distant, like he was in thought and on the way to my grandparents I asked him was he ok. He said I'm ok, just my mouth's quite sore," recounted Matthew adding that he thought nothing more of it.
Under cross examination Matthew repeated that when his father first found out "he started roaring, tears and stuff".
As for himself, he told the jury how he spent the next two hours locked in the bathroom "trying to call my mum" and praying.
"I think there were 30 or 40 missed calls," Matthew said adding that he was aware of a "commotion" downstairs when his father collapsed in the garden and an ambulance was called.
The day afterwards, on the Monday the jury heard, Haveron was still upset when Matthew saw him using a cane to help him walk.
"I said to him 'you are all we have got left now' and he was crying as he went upstairs," said Matthew.
The trial continues.