Lismore school and BBC to capture the final frontier
By Barra Best
BBC News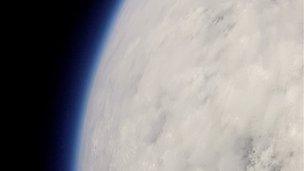 Space, the final frontier - humanity has always been fascinated by it.
Now a group of students from Lismore Comprehensive School, along with the BBC, hope to reach the boundary by launching their own weather balloon from Northern Ireland next week, weather conditions allowing.
The experiment, involving a giant latex balloon filled with helium, will see video cameras, weather instruments and the first Children in Need Pudsey bear from Northern Ireland to be sent into the stratosphere.
The cameras will be able to capture images thousands of metres up in near space while scientific equipment will measure, among other things, temperature, pressure and wind speed.
The experiment will lead up to the next UK wide Stargazing Live series which will air on BBC 2 from 8 January 2013.
Locally it will be held at the Lough Neagh Discovery Centre where there will be Star Navigation Boat Tours, Guided Star Walks and many other activities.
"It's a great opportunity for us to work with a host of partner organisations to put on an exciting celebration of astronomy and entertainment for all to enjoy."
The balloon is designed so that at a particular height it will burst and at that point a parachute will automatically deploy. Where will it land? Nobody knows, but a team will be able to track it down using GPS.
In order to minimise the chance of it landing in the Irish Sea or the Atlantic the balloon will be released in County Fermanagh.
Of course, it will all depend on the wind direction and strength on the day.
Let's just hope it doesn't land in Roswell, New Mexico. We all know what happened there last time.
Related Internet Links
The BBC is not responsible for the content of external sites.