Murder accused Joseph Haveron 'pointed gun at wife'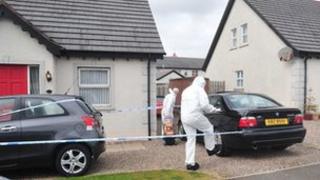 A retired RUC sergeant accused of murdering his wife once pointed his personal protection gun at her head, his trial has heard.
Joseph Alfred Haveron, 58, denies murdering Pauline Haveron.
The 53-year-old was found strangled to death in a bath at her home in Ballyclare on 18 April 2010.
On Monday, Mrs Haveron's mother Iris Howarth told the jury she remembered an incident in 1981 when her daughter told her a "gun had been put to her head".
Mrs Howarth said the incident happened when her grandson Jonathan was about four months old
Her son, Mrs Haveron's brother Philip Howarth, also gave evidence.
He said when he saw his sister the day of the incident, she was upset and crying and described to him how an argument had "escalated" before she "took Jonathan in her arms and she knelt before Joe and he took out his personal firearm and pointed it at her head".
He said he was so alarmed at what he had been told that he went to get the police, but left the room when his sister recounted her side to the officers.
Defence QC Gavan Duffy suggested to him that in fact, the former sergeant had left his gun locked in a station locker at the time, but Mr Howarth told him he "can't comment" on that.
One of the officers who spoke to Mrs Haveron that day, retired Sergeant Cecil Williamson, told the court that Mrs Haveron "never mentioned" such a complaint.
He added however that he had witnessed his former colleague "being aggressive" towards his wife.
Mr Duffy also suggested to Mr Williamson that Mr Haveron was in the habit of locking his gun in the station at the end of a shift and, although the former officer said he did not know if that was the case, he added that for his own part "I kept it (his gun) at home and carried it with me to my station and I always had it with me".
Later on Monday, a former neighbour of the Haverons, Alexandra Hill, gave evidence that on the day of the incident, Mrs Haveron had told her about it in a "quite distressed state".
"She told me that Joe had taken his gun and put it to her head and then had smacked her around the head," claimed Mrs Hill adding that she had felt the "bumps" on her neighbour's head.
Under cross-examination from Mr Duffy, the lawyer said that essentially, Mrs Haveron had alleged that "he had in effect pistol whipped her" and Mrs Hill agreed that yes, she had, adding that to her mind, the incident had been reported to the police.
The trial continues.