Sir Patrick Moore's Armagh impact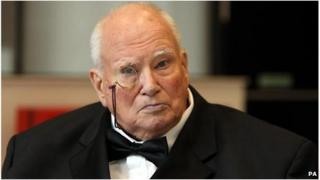 Astronomer Sir Patrick Moore, who died on Sunday aged 89, first visited Armagh in the 1950s, giving lectures at the observatory.
But it was in his role as the first director of the city's planetarium that he made the biggest impact.
He spent three years overseeing the building of the original dome, stepping down on the very day it was formally opened in 1968.
During those years, he lived in a striking Georgian house on the city's Mall.
Fellow astronomer Pat Corvan, remembers how he would fascinate guests with talk of astronomy, cricket, music, the world and all that was in it.
"He was only 45 then," Pat said. "A relatively young man, full of energy, a real human dynamo. How he kept up the pace he did, I do not know, because he made do with about three hours sleep a night.
"We would spend hours upon hours up at the telescope at the observatory and yet he could be away at the crack of dawn to maybe London to do a TV interview or to visit his publishers or whatever. It was amazing; he showed no sign of fatigue whatsoever."
Pat first met Sir Patrick in 1954 when he and some friends attended one of his talks in Armagh.
He kept in touch and some months later received a surprise letter offering the boys the chance to build their own telescope, which Patrick would pay for.
"This was typical of what Patrick was famous for - his generosity," said Pat. "He helped thousands of amateur astronomers like me"
When they weren't at the telescope, Pat and Patrick would spend the time at Moore's house on the Mall.
"There was a little table in the middle of his study and we would converse about astronomy and he would speak about other things," Pat said.
"I think one of the disappointments, though, was that he was very reticent about his wartime career.
"He was a navigator in bomber command but he would never speak about it. I would have loved it if he had spoken more about it because it was an important part of his life.
"He was only 17 when he joined bomber command and as we know something like 55,000 crew died in that encounter, so he was one of the lucky ones who survived and it would've been a very interesting story."
Pat said the one thing that Sir Patrick couldn't come to terms with in Northern Ireland was its divided society.
He confirmed that he had left the local cricket club after being asked about his religion and was constantly frustrated with what he saw as the enforced division of local youth groups.
A spat with the Orange Order, however, had more to do with logistics than politics.
His house then, as now, stood next to the Orange Hall which was a regular dance venue at the time.
It was with great frustration that Sir Patrick would find dancers' cars parked across his drive on a Saturday night when he himself wanted to leave the house, no doubt for yet more stargazing.
"I always looked on Sir Patrick as the astronomical equivalent of Peter Ustinov," said Pat.
"With his sense of humour, he was very mischievous. But he was a wonderful, wonderful character."