Belfast flag protests: Three teenagers charged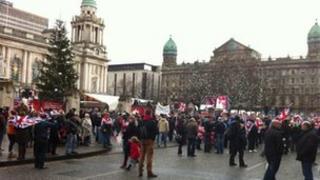 Three teenage boys have been charged in connection with rioting in north Belfast on Saturday evening.
Two of the boys are aged 13 and one is 14 years old.
There have been a series of protests over Belfast City Council's decision to only fly the union flag from the city hall on designated days.
On Sunday, Translink diverted bus services to the Shankill Road due to a flag protest at Peter's Hill.
A Union Flag protest was also held in Londonderry. About 20 loyalists carrying union flags, were allowed to walk through Derry city centre after a stand-off with the police.
The police have said they will send a file to the Public Prosecutions Service about the actions of some of the protesters.
On Saturday, up to 2,000 people at Belfast City Hall held a peaceful protest.
However, violence broke out in some parts of the city afterwards.
A police officer injured during trouble has been discharged from hospital.
Several men and two other teenagers have also been charged.
There was criticism of the timing and location of Saturday's rally on one of the year's busiest shopping days.
The president of Belfast Chamber of Commerce, Joe Jordan, has criticised the council for raising the contentious issue so close to Christmas.
"It's not really a question of how sympathetic retailers are to the protesters and to the debate about the union flag it really boils down to more who is responsible for creating the protest," Mr Jordan said.
"I think Belfast city council has to hold its hands up and admit that they are to blame here. Why could this protest or this debate not have happened in February or March of next year?"
On Saturday, there was trouble on the Newtownards Road in east Belfast after and some minor disturbances on O'Neill Road in Newtownabbey.
The police have said paramilitaries have organised some of the violence.
Bricks and other missiles were thrown at police officers and a car was set on fire in east Belfast.
An attempt was made to hijack a bus in the Castlereagh Street area.
Loyalists opposed to new restrictions on flying the union flag at Belfast city hall have been holding protests across Northern Ireland all week after the city council voted to fly the flag on about 20 designated days.
Nationalists at Belfast City Council had wanted the union flag taken down altogether, but in the end voted on a compromise from the Alliance party that it would fly on designated days.
Unionists have said they consider the changes regarding the union flag to be an attack on their cultural identity and there have been protests in different parts of Northern Ireland since it was taken.
There was also a small protest at a football match in County Fermanagh on Saturday. Demonstrators took to the pitch at half-time during the Irish League game between Ballinamallard and Belfast side Linfield.
The protest at Belfast City Hall was peaceful, but an Irish tricolour was set on fire.
During the protest the crowd was addressed by former BNP fundraiser Jim Dowson.
The Progressive Unionist Party leader Billy Hutchinson and UDA boss Jackie McDonald were also present.