Attwood calls for rethink on McCreesh Park name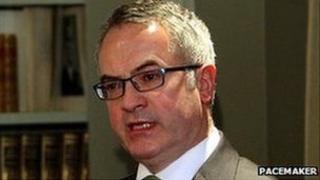 SDLP minister Alex Attwood has said his party's councillors should reconsider their support for a play park being named after an IRA hunger striker.
Newry and Mourne nationalist councillors voted to keep the name as the Raymond McCreesh Park. McCreesh died during the 1981 hunger strikes.
He had been convicted of attempted murder.
The environment minister said people should be careful not to glorify elements of the Troubles.
Mr Attwood said he had asked the councillors over the past 24 hours to look again at their position on the park's name.
"In my view the principle should be, that in going forward, we should not, in any shape or form, be seen to be in any way, putting on a pedestal, those in state or terror organisations that visited such grief and pain on our people in the past 40 years," he said.