Republican slogans daubed on church in Glenavy, County Antrim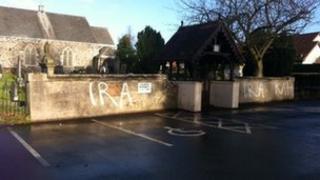 A Church of Ireland church in County Antrim has been daubed with IRA slogans in a sectarian attack.
The republican slogans were painted onto the church and the church hall in Glenavy, near Crumlin.
Threats to two named individuals from the area were also daubed on to the walls.
DUP MP for South Antrim William McCrea said it was an attack on the Protestant people in the village.
Minister John Rutter said the church hall was a mess: "All four walls of are covered in graffiti.
"Parishioners are dismayed, some are angry and some are disheartened as I am myself, particularly in view of the fact that we have done quite a bit in terms of community relations.
"In fact, we had Santa's grotto in the hall on Wednesday night with folk from all over the village, all backgrounds coming together for a great evening."
Rev Rutter said he did not believe it was connected to recent disturbances following a decision by Belfast City Council to fly the union flag only on designated days.
"I thought it was when I first got a phone call," he said.
"When I got down here and saw some of what was written I realised it is more a local issue - a local issue about the village.
"This is a village which has grown enormously over recent years and the population balance has changed from unionist to nationalist.
"This has to be a village with a shared future - there are many things happening to ensure that will be the case."
In a statement, police said they were "appealing for information following the report of criminal damage to a church in the Belfast Road area of Glenavy".