Ulster Unionist trio want Basil McCrea disciplined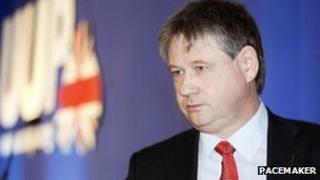 The UUP's three Belfast councillors are demanding Basil McCrea be disciplined over his support for the flying of the union flag on designated days only.
David Browne, Jim Rodgers and Bob Stoker have told their party leadership they are considering their position if action is not taken against Mr McCrea.
Mr McCrea was interviewed on BBC Radio Ulster's Nolan Show on Friday morning.
He said the flying of the union flag is a matter for Belfast council but agrees it should fly only on designated days.
The council veterans believe Mr McCrea, a Lagan Valley MLA, has contradicted party leader Mike Nesbitt and is not upholding the party's constitution in support of the union.
Mr Stoker said he and his council colleagues are seriously considering their position and want the party to deal with Basil McCrea as a matter of urgency.
Another source told the BBC that the councillors felt others had been dealt with ruthlessly while Mr McCea was an unguided missile who had been let off.
In a statement the UUP said: "Mike Nesbitt made the Ulster Unionist party`s position absolutely clear on Thursday.
"There is a fundamental issue regarding the chipping away of people's identity as British citizens.
"No doubt Basil McCrea's interview will be brought up when the party executive meet tomorrow."
'Cultural identity'
Nationalists at Belfast City Council had wanted the union flag taken down altogether, but in the end voted on a compromise from the Alliance party that it would fly on designated days.
The vote was 29 to 21, with unionists accusing Sinn Fein, the SDLP and Alliance of attacking their cultural identity.
There have been loyalist protests and disturbances since then.
Assembly parties are to hold a special session on Monday to debate a motion condemning the attacks on Alliance politicians' homes and offices.
The first minister has called for the loyalist protests over the union flag to be suspended to ensure they are not used to launch a campaign of violence.
Alliance said both main unionist parties must bear some responsibility for stoking up the flag issue.
The DUP's Sammy Wilson accused Alliance of "opening a Pandora's box".
However, the main Stormont parties put on a united front - agreeing to hold a special assembly session on Monday where all sides could express their opposition to the violence.
In a written statement, Peter Robinson remained critical of the decision by nationalists to seek the removal of the Belfast City Council union flag.
The first minister described it as "divisive and provocative".
Minor trouble
Mr Robinson also called for the recent violent attacks to stop immediately and said the flag protests should be suspended in the wider interests of creating a peaceful society.
In Ballymena on Thursday night, there was minor trouble when a small group of loyalists attacked police Land Rovers and cars in Linenhall Street.
They ran away when riot police moved in. Police remained in the area until traffic began moving freely through the town centre.
The PSNI said that some roads had been blocked by loyalist protesters in north and south Belfast.
Speaking on BBC Northern Ireland's The View on Thursday evening, Nigel Dodds, DUP, said his party would be taking steps to table a motion in the Northern Ireland Assembly over flying flags at Stormont.
He condemned the recent violence as deplorable. Mr Dodds said his party had not asked people to come out onto the streets but to lobby.
However, he added: "We will not back down in terms of our determination to ensure that the Britishness of Northern Ireland is not diminished."
Alliance leader Naomi Long said her party's councillors had behaved responsibly in Belfast in taking advice on equality and voting that the union flag should be flown on designated days.
"The DUP are determined to take this campaign to Stormont and to create more difficulties," she said.
"The bottom line, is violence is wrong. This is about whether you are for democracy and the rule of law or against that democracy and rule of law."
She said that any decision to fly the union flag over the cenotaph outside Belfast city hall would have to be considered as a separate issue by the council. It would not alter the decision taken about flying the union flag on designated days at the city hall.
Earlier, Alliance leader David Ford requested an immediate recall of the assembly, which was backed by the SDLP's Pat Ramsey and two Ulster Unionist assembly members, Basil McCrea and John McCallister.
However, Sinn Fein preferred holding any special session on Monday, before other scheduled business is dealt with, arguing that a divisive debate at Stormont might fuel tensions over the weekend.