Red diesel can be used by farmers when gritting roads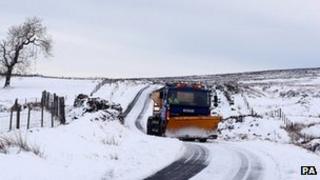 Farmers will be allowed to use red diesel in their tractors to help grit and clear snow from public roads during periods of extreme weather.
Currently only vehicles constructed or adapted and used solely for gritting can do so while using red diesel.
HM Revenue & Customs (HMRC) said it recognised the vital role played by farmers.
Change to legislation to allow red diesel to be used in tractors while gritting is under consideration.
A summary of consultation responses will be published shortly.
HMRC said it will adopt a "pragmatic approach" to the current rules during periods of extreme weather.
"This means that agricultural tractors on public roads clearing snow or gritting to provide access to schools, hospitals, a remote dwelling, or communities cut off by ice and snow can continue to use red diesel," HMRC said.
The Ulster Farmers' Union (UFU) welcomed the move.
UFU president Harry Sinclair said: "Farmers across all parts of Northern Ireland have an excellent track record of clearing our public roads and coming to the aid of motorists during periods of heavy snowfall."
"This decision removes an unwelcome layer of bureaucracy which was hindering farmers freedom to be involved in road clearance during heavy snowfall.
"Many farmers have the necessary equipment to keep our roads open during extreme weather conditions and this decision by HMRC is good news for motorists as well as the farming community."