Union flag protests: Officer injured in Ballymena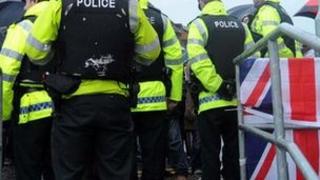 There was minor trouble after a loyalist protest in Ballymena town centre on Thursday night.
Bottles and missiles were thrown at police by some of those protesting over the decision to only fly the union flag at Belfast City Hall on special days.
One officer suffered a minor injury. Two police Land Rovers and two cars were damaged and a shop window was broken.
Two people - a 16-year-old boy and a 20-year-old man - were arrested.
There have been protests in parts of Northern Ireland after Belfast City Council voted to stop flying the union flag at city hall on every day of the year.
Meanwhile, two men have been charged in connection with a protest in Glengormley on Thursday.
The pair, aged 27 and 21, are due to appear in court in Belfast on Friday morning.
A 29-year-old man arrested in connection with an attack on the offices of the Alliance party in Carrickfergus on Wednesday has been released on police bail pending further inquiries.