Two scrapyards under spotlight in environmental crime probe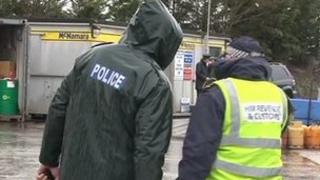 Two scrapyards in Fermanagh and Tyrone are under investigation in an operation into alleged environmental crime.
Environment Minister Alex Attwood said he wanted the law enforced to protect both the environment and operators of legitimate waste businesses.
A yard in Enniskillen was raided by the police, environment agency and revenue and customs officers.
Contaminated vehicle engines were discovered in a skip with oil flowing from it.
Tests are being carried out to confirm if pollution is entering a stream running alongside the yard which flows into Lough Erne.
Suspected stolen lead was also taken away by the police.
A spokeswoman for the Department of the Environment said a great deal of money could be made from breaching environmental law.
Documents have been removed and investigations into the operation of this site and another business in Dromore, County Tyrone, are continuing.